Limited outdoor space doesn't have to limit your cooking opportunities. If you have only a little space for a pellet grill or want something you can put in the bed of your truck when you're going camping or over to a friend's house, we've got the perfect solutions for you. Here are our top 4 favorite small grills:
Add a header to begin generating the table of contents
Best budget small Grill: Z Grills 450B
Our bestseller the 450B pellet smoker has been updated for 2021, which only improved on its already outstanding grilling quality. The 450B offers the perfect balance of quality, performance, and value in a compact size. It comes complete with a PID controller so you can set it and forget it, leaving your pellet grill to produce mouthwatering results with none of the monitoring. Forget being glued to the grill every time you visit family, as this grill will manage it all. All you need to do is serve when your meal is done!
The 450B is 24" deep, 43" long, and 47" high.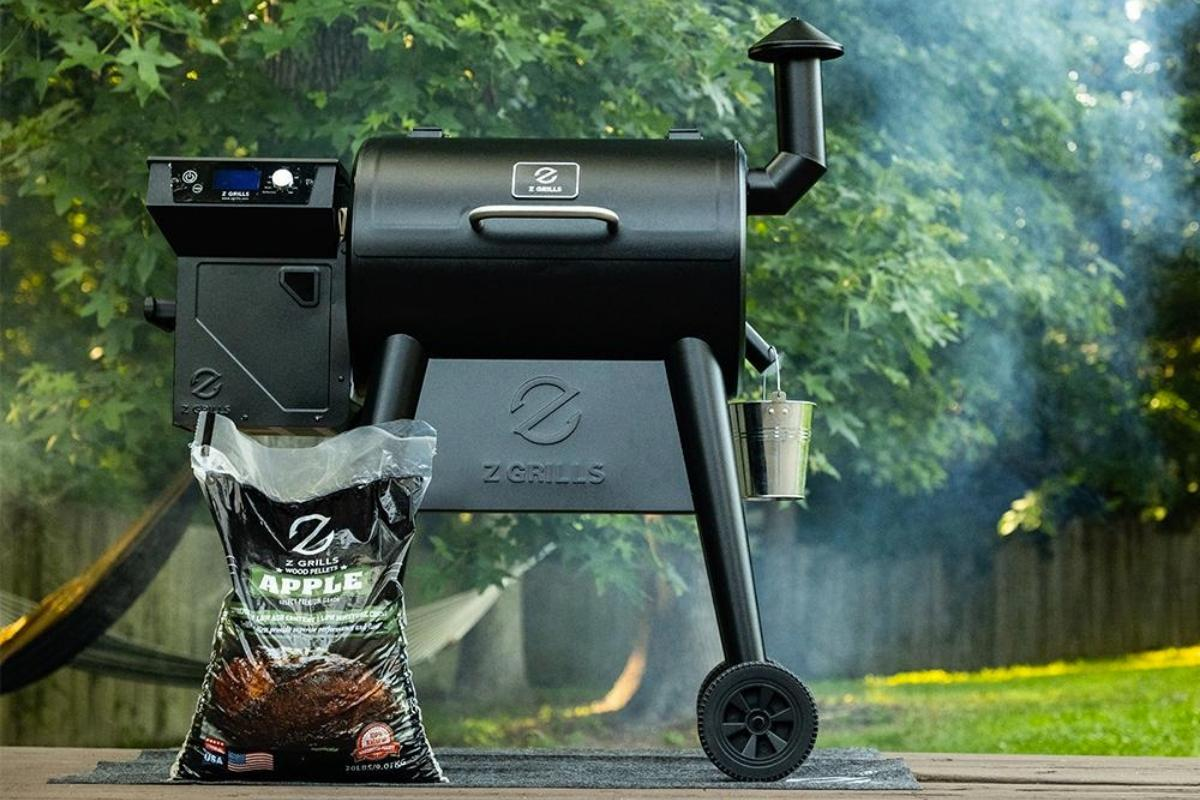 Z GRILLS 2022 Upgrade L6002E Ultimate Flame Pellet Grill
The Z Grills L6002E pellet smoker is an ideal backyard barbecue companion that perfectly balances size and performance. Whether you're cooking for a small group or hosting a larger gathering, this pellet grill has got you covered. With its digital controls, you can effortlessly set your preferred temperature and achieve outstanding results every time. Whether you're looking to smoke your food slowly at 180°F or sear it to perfection at a scorching 750°F, this pellet smoker can do it all. What more could you ask for?
The 6002E is 22" deep, 46" wide, and 48" high.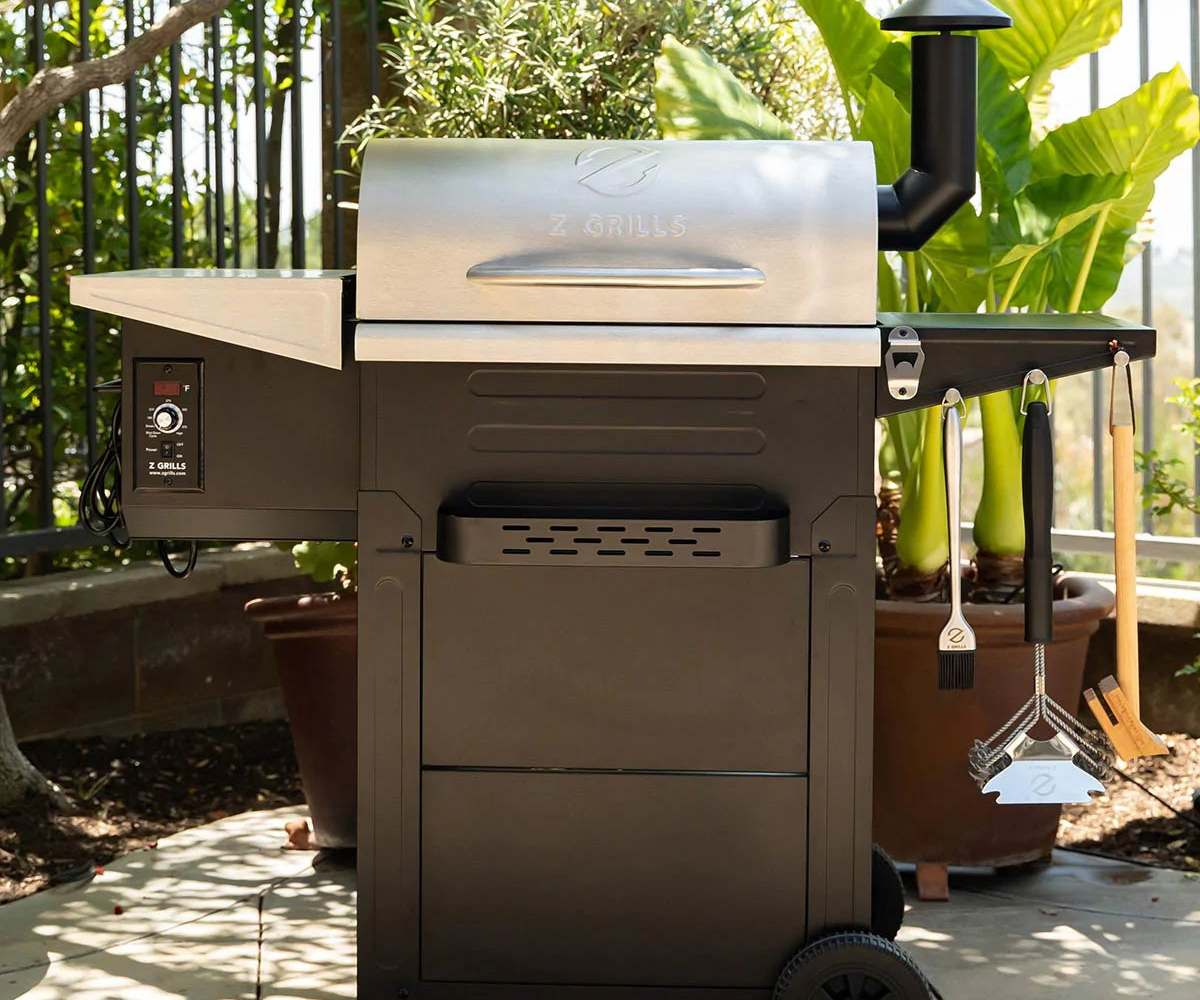 Best for tight spaces: Z Grills 550A
Z GRILLS 2022 Upgrade Model ZPG-550A 8 in 1 BBQ Pellet Grill & Smoker is the perfect petite pellet grill, ideal for small families, small spaces (fits on most balconies!), and camping trips! This 8-in-1 pellet grill will provide a constant temperature that perfectly cooks any meal, whether it be fish you just caught from the river or burgers you picked up on your way home from work.
This grill will be there for you, whatever you need, and wherever you are. With all-terrain wheels, this grill can be easily moved wherever needed, even through snow and sand. Grill, sear, bake, barbeque, smoke, braise, roast, and char-grill all with this grill – your kitchen oven will soon feel neglected!
The 550A is 25" deep, 40" wide, and 48" high.
Best small pellet grills: Z Grills 200A
There are a few choices available, but none surpasses the new Z Grills Cruiser 200A Portable Pellet Grill. The Cruiser was built with the go-anywhere, do-anything outdoor type in mind. It's made to be carried all over the country, easy to transport, fast to set up, and easy to clean.
Simple to operate, the 200A offers unrivaled flexibility and control and will help you produce perfectly cooked food time after time, wherever in the world you are. It will keep you well fed with everything from burgers to brisket, provided you've got the electricity source!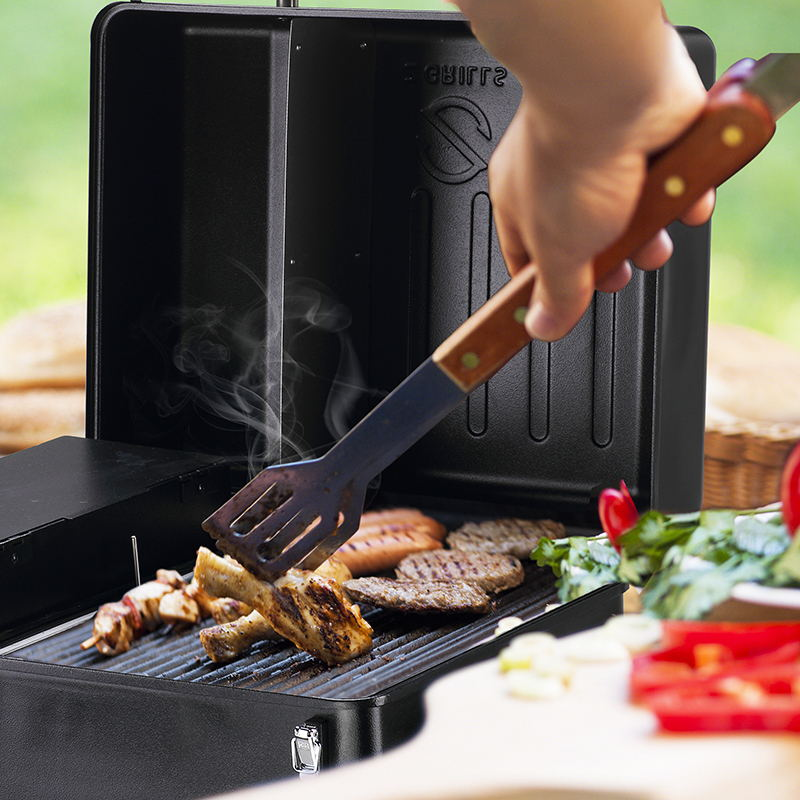 Best small grill offer: Jump on our blind box
Our spectacular Blind Box offers always make a splash, so jump on the offer and grab yours today! Our Blind Box offers some of the best space-saving grills available on the market, and you can get some of the best pellet grills available on the market for a fraction of the price.
Why Z Grills?
We have over 30 years of grill manufacturing under our belts and in that time we've honed our skills to produce the highest-quality, most affordable, easiest-to-use pellet grills on the market. We don't believe our community should compromise on any aspect of their grilling experience, and so we make sure every grill in our range keeps a constant temperature and offers 8 different ways to cook your meals, all infused with wood-fired deliciousness.