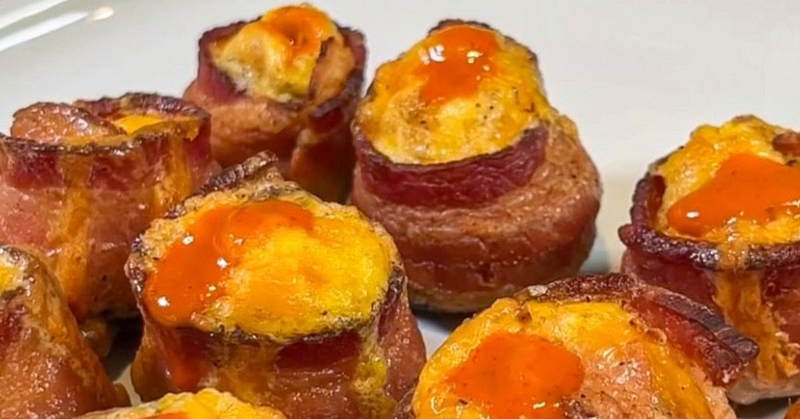 Smoked Pig Shots
Have you ever tried smoked pig shots? These little flavor bombs are the perfect appetizer for any BBQ party! To make them, cut a slice of smoked sausage and wrap it in bacon, then place it in a shot glass with a dollop of cream cheese and a sprinkle of your favorite rub. Smoke them on your grill or in your smoker until the bacon is crispy and the shredded cheese is melted. The result? A delicious and smoky bite that your guests won't be able to resist. Trust me, these smoked pig shots will be the star of your next cookout!
Equipment
Z Grills 700D3 Wood Pellet Grill

Z Grills Hickory Wood Pellets

Toothpicks
Ingredients
1

pound

bacon

12

oz

Kielbasa sausage

2

eggs

1/4

cup

shredded cheese

Salt and pepper (to taste)

Hot sauce for garnish
Instructions
Cut the bacon in half and slice the kielbasa into 1-inch rounds.

Wrap each kielbasa round with a half slice of bacon, securing it with a toothpick to form a shot glass shape. Place them in the fridge to hold their shape.

Preheat your z grills pellet smoker to 375°F for at least 10 minutes.

Place the pig shots on the grill and smoke for about 50 minutes.

In a bowl, mix 2 eggs, shredded cheese, salt, and pepper to taste.

At 40 minutes into the cooking process, carefully spoon the egg mixture into each pig shot and let it cook for another 10 minutes or until it sets.

Serve the smoked kielbasa bacon shots with your favorite hot sauce for garnish.

Enjoy this delicious and savory smoked appetizer that will surely be a crowd-pleaser!
Video