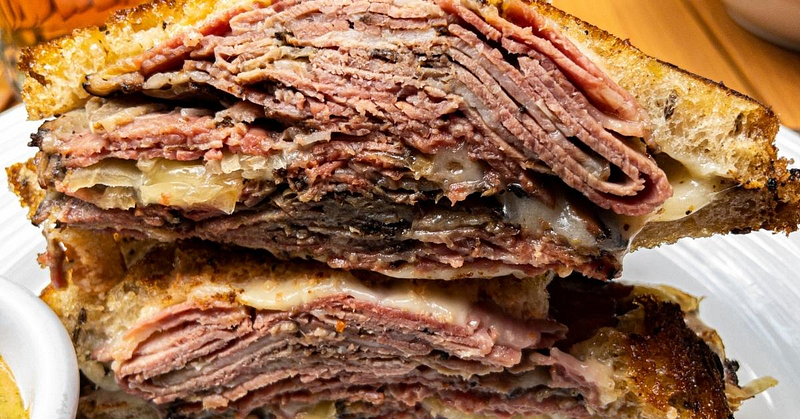 Smoked Pastrami
This smoked pastrami is rich, peppery, moist, tender, and will stack up against pastrami at any high-end deli. Pastrami is usually made with beef navel, which isn't available at most grocery stores, so we're using brisket flat instead. The cut is easy to find, reasonably economical, and offers a robust, beefy flavor.
Equipment
Z Grills 11002B Pellet Grill with Wi-Fi

Z Grills Cherry Wood Pellets

Medium Pot

instant-read thermometer

Large Non-Reactive Container

Food-safe Spray Bottle
Ingredients
7

pounds

USDA Choice brisket flat

½

gallon water

1

cup

kosher salt

½

cup

light brown sugar

¼

cup

granulated sugar

3

teaspoons

pink curing salt, not Himalayan pink salt

2

tablespoons

whole coriander seeds

2

tablespoons

pickling spice

1

tablespoon

whole mustard seeds

4

garlic cloves, minced

1

tablespoon

red pepper flakes

3

bay leaves, crushed

2

quarts

chilled water
Spice Rub
2

tablespoons

whole coriander seeds

1

tablespoon

whole mustard seeds

¾

cup

coarsely ground black pepper

2

teaspoons

garlic powder
Other
2

tablespoons

vegetable oil

1

cup

reduced-sodium beef broth
Instructions
Rinse the brisket, pat it dry and trim the fat cap, so it is 1/8 inch thick.

Bring the water to a boil in a medium pot.

Reduce to a simmer once boiling, then add the kosher salt, sugars, pink curing salt, coriander seeds, pickling spice, mustard seeds, garlic, red pepper flakes, and bay leaves.

Simmer for 12-15 minutes.

Remove the brine from the heat and set it aside for 15 minutes to cool down.

Add the cool water until the brine temperature reaches 40 degrees Fahrenheit.

Transfer the brisket to a large non-reactive container.

Pour the brine over the brisket, cover the container, and refrigerate for 5-6 days. Flip the brisket flat once every day.

Remove the brisket flat from the brine and pat dry with paper towels.

Preheat your Z-Grill (preferably with branded wood pellets) or other wood pellet grill to 250 degrees Fahrenheit.

Crush the coriander and mustard seeds with a meat mallet, mortar and pestle, or rolling pin.

Add to a bowl with the black pepper and garlic powder. Mix to make the spice rub.

Apply the vegetable oil to the brisket, then add the spice rub. Apply the rub all over the brisket flat.

Transfer the brisket to the grates, close the lid, and smoke for 5-6 hours or until the internal temperature reaches 165-170 degrees Fahrenheit.

Fill a spray bottle with beef broth and spritz the beef with beef broth every hour.

Increase the pellet grill's temperature to 300 degrees Fahrenheit and cook for 1 hour and 30 minutes or until the internal temperature reaches 200 degrees Fahrenheit.

Remove the pastrami from the smoker and rest for 30-40 minutes.

Thinly slice the pastrami against the grain using a sharp knife or load it onto a deli slicer, then serve as desired. It tastes great sandwiched between two slices of toasted bread with mustard and sauteed onions.
Notes
You can also use ice to cool down the brine more quickly. You will need 3-4 pounds.