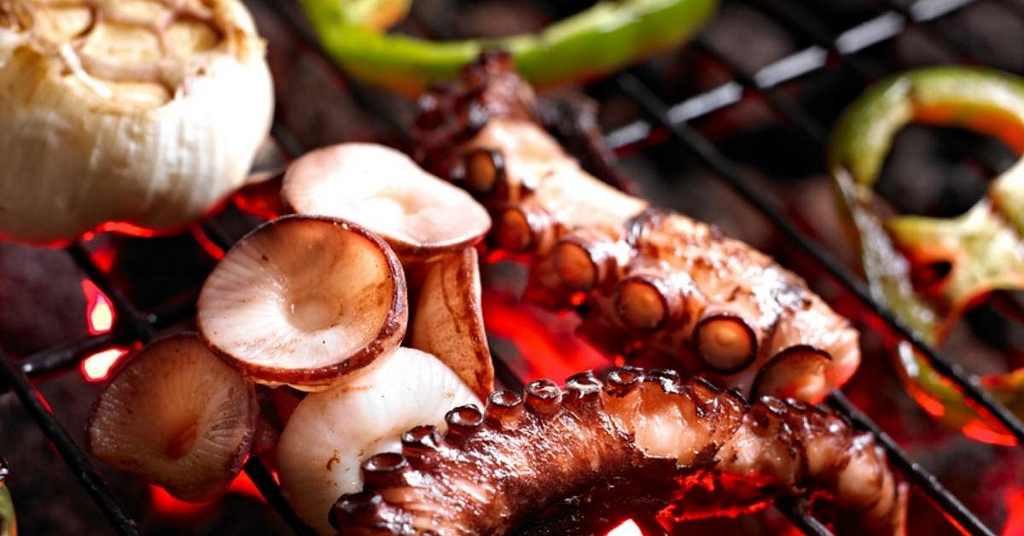 Octopus is one of the great culinary experiences but it can be hard to get a properly cooked one in a restaurant. Badly cooked, octopus is a little tasteless and oh so rubbery – yikes. Perfectly cooked, it will melt in your mouth.
The best way to grill octopus so it has the best flavor and texture is undoubtedly on a pellet grill. The smokiness really adds another dimension to the eating experience. It's not hard to make, either, once you know a little bit about octopus and how to prepare and cook it. Today we'll talk you through everything you need to know to prepare octopus on your pellet grill.
Add a header to begin generating the table of contents
Can you grill octopus?
Yes, you can! Octopus is delicious on the grill, so read on to find out how to do it.
How to Choose the Right Octopus to Grill
Like most seafood, you want octopus that doesn't have a strong smell. Octopus doesn't have a long "shelf-life" so you want the freshest you can find. You want the tentacles to be good and firm though they may feel a little slimy. When you are buying octopus it's a good idea to get the fishmonger to remove the guts from the head and the beak too, so you don't have to, as this can be a little intimidating (though we will guide you through the process below).
If you haven't got a nearby fishmonger, frozen octopus is nearly as good as fresh, so there's no excuse for not giving octopus a try.
How to Clean Octopus
If the fishmonger hasn't already prepared the octopus for you it is fairly straightforward to do it yourself. Think of the octopus as being in three parts: the tentacles, the head, and the piece in the middle.
Cut off the tentacles just below the eyes
Cut off the head
This leaves you with the ink sac and bits you don't want, so discard them.
You also need to remove the beak which is situated between the tentacles.
Turn the head inside out and pull out the insides – you need a fair amount of force to do this, so don't be gentle
Wash the head and make sure you just have a nice clean, white head
The tentacles need to be well washed too
Pat dry
Skin the head (that's pretty easy), and trim
 If you want, you can separate the tentacles from one another.
What Size Octopus to Use When Grilling on a Pellet Grill
It's better to go by weight than size when buying octopus and you have to remember that octopus significantly shrinks when cooked. So, when getting your octopus, if you get a pound for each person you want to feed you won't be far off.
Grilling Tools and Ingredients for Grilled Octopus
You really don't need much in the way of equipment and ingredients for grilled octopus. Besides a quality grill, you'll need some good olive oil, salt, and freshly ground black pepper, and perhaps some minced garlic. You do need to pre-cook the octopus so you will need a pan of boiling water too.
Best Wood Pellets and Best Pellet Grill Choices for Grilled Octopus
Octopus has a subtle flavor so you need to choose your wood pellets carefully. Top of the list has to be oak wood pellets. Oak adds a smoothness that enhances the flavor of octopus and adds a smokiness that is very appealing. Fruitwood is another option with the fruity notes it brings.
Whatever pellets you choose, make sure they are of good quality. All-natural pellets from U.S. hardwoods, like those in Z Grills pellets, ensure lots of consistent heat – a must for good cooking.
Most good-quality pellet grills will be able to cope with grilling octopus so long as they are capable of maintaining reasonably high temperatures. Our Flame Elite 600D3E Pellet Grill is perfect with its choice of eight cooking styles including access to direct flame. Or if you want the latest in technology, try our Multitasker 11002B wifi pellet grill with its built-in WIFI and Bluetooth connectivity – this grill is the future of grilling and so a must-have for ambitious grill masters.
Step-by-Step Guide to Grilling Octopus on a Pellet Grill
This is the best way to grill octopus:
First you need to pre-cook the octopus. The simplest way to do this is by gently simmering it in water. An octopus is full of strands of collagen – it's what makes an octopus super rubbery if it's not cooked properly. The collagen supplies the structure the boneless octopus needs and the pre-cooking renders this collagen down into gelatin.

Cook the octopus for around 1 hour, or until a small knife penetrates the flesh easily. Let the boiled octopus cool in the liquid before moving on. At this stage, you could freeze the pre-cooked octopus to grill on another day.

Once cooled, drain the octopus and dry it by patting it down with towels.
Set your grill to temperature and allow it to heat up.
Coat the octopus in a little olive oil and seasoning and place it on the hot grill. This stage takes just a few minutes. Remember that the flesh is cooked, it just needs heating and charring to give that wonderful caramelization that makes grilling so good.
What to Serve with Grilled Octopus
Number one would be a crunchy, flavourful crisp salad with perhaps some crusty bread on the side. Roasted Mediterranean veggies are another perfect accompaniment, as is couscous with chopped and fried bell pepper. You can also serve it with any of your favorite stir-fry dishes.
How Long to Grill Octopus & Best Temperature
Time and temperature are not critical here, because the octopus has already been boiled. You'll need medium-high heat and grill the octopus for three to four minutes a side until nicely charred.
Many people are put off eating octopus because of a bad restaurant experience, and that's a shame because properly cooked, they are a delight for the taste buds and a great recipe to conquer if you're an experienced (or even a newbie!) grillmaster. If your grilled octopus isn't coming out as well as you'd like, it may be time to upgrade your pellet grill. Our pellet grills offer top-tier quality at direct-from-manufacturer prices, so click here to get your hands on our latest deals.
Grilled Marinated Octopus
The grilled marinated octopus recipe is delicious and easy, you'll love it.
Ingredients
3

lbs

prepared octopus

2

bay

leaves

1

onion, quartered

1

carrot, roughly chopped

1

stick

celery, roughly chopped

1

tablespoon

black peppercorns

1

cup

olive oil

2

cloves

garlic, finely chopped

1

tablespoon

dried oregano

½

lemon

Freshly ground black pepper
Instructions
Put the octopus in a large pan with the bay leaves, veggies, and peppercorns.

Cover with water and bring to a boil – you may need to weigh down the octopus with a saucer or similar to keep the octopus under the surface.

Simmer with a lid on for an hour to 1½ hours until the tip of a small knife easily pierces the flesh.

Turn off the heat and allow to cool completely.

Drain the octopus and cut it into bite-sized pieces.

Mix the oil, garlic, and oregano together with some salt in a large bowl and whisk. Add the pieces of octopus and leave to marinate in the refrigerator for at least 2 hours and preferably overnight.

Heat your pellet grill until hot.

Drain off the marinade and grill the octopus for about 3 minutes until charred to your liking.

Squeeze over the lemon juice, add a little more oregano, a pinch of salt and pepper, and serve.