Is there anyone on the planet who doesn't love pizza? The poor souls who are gluten-free or dairy-free have a tougher time, but even they'll give anything pizza-shaped a try. If you're addicted to the incredible results your pellet grill offers, then you've likely considered if cooking a pizza on it is possible. Well, we have good news – it is! You can get that authentic wood-fired flavor that we usually have to rely on restaurants to offer. Here's everything you need to know about how to cook pizza on a pellet grill plus a couple of recipes to help you get started!
Add a header to begin generating the table of contents
Do I Need to Use a Pizza Stone on my Pellet Grill?
No, you definitely don't need to use a pizza stone, so if you've got your pizzas ready and are doing a quick search for whether you can put them on your grill, you can move ahead.
However, if you want to cook fresh pizzas often or have a grill with wide grates, it would be a good idea to invest in a pizza stone. You can use a baking sheet in a pinch, but a pizza stone distributes the heat evenly and makes for a better crust.
How to Cook Pizza on a Pellet Grill
Without a Pizza Stone
Before you get started, have a look at your grill grates and consider if your pizza is likely to collapse through the grates. While a droopy and overly crispy edge to your pizza isn't the end of the world, it is a bit disappointing, so if your grates are wide and you don't have a pizza stone, use a large baking sheet if you have one.
Once you know how you're going to cook the pizza, set your pellet grill to the highest temperature setting – we need it hot for pizza! Wait for 15 minutes before you add the pizza, as you need the grates to be hot so your pizza doesn't sag.
Allow the pizza to cook for around 12 minutes, but keep an eye on it to ensure the crust doesn't burn. If you're cooking from frozen, follow the temperature and timing on the packaging.
With a Pizza Stone
Heat the pellet grill as directed above, and allow the pizza stone to sit on the grill for half an hour, and then add the pizza. Allow the pizza to cook for about 12 minutes, or follow the directions on the packaging for a frozen pizza.
Pizza Recipes: How to Make Homemade Pizza Dough
We've included two delicious bbq pizza recipes below, which you can use this homemade pizza dough recipe with, or simply cheat with a store-bought pizza base – it's completely up to you. Here's how to make homemade pizza dough:
Prep Time: 2 HOURS
Yields: 2 Pizza Crusts (you can freeze the second if you don't need it)
Ingredients:
225ml Warm water
1 sachet fast-action yeast (make sure it's relatively fresh – not something that's been sat in the pantry for a few years!)
1 tsp Sugar
3.5 cups flour (all-purpose, bread, or whole wheat flour)
1 tsp Salt
Optional: 3 tbsp melted butter and 1tbsp olive oil
Directions:
By hand in a large bowl, or in a stand mixer with a dough hook, combine the yeast, warm water, and sugar. Stir it together gently and allow it to sit for 10 minutes until it is foamy.
Add 3.5 cups of flour, salt, and melted butter, if desired. Set your mixer to a low speed, or combine with a wooden spoon or spatula until it's combined.
Remove the dough from the bowl and sprinkle flour over a flat surface and knead by hand. If it's still sticky after 5 minutes, sprinkle a little flour over the dough and knead. Repeat as necessary until the dough is springy, bouncing back when you poke it. If you're using a mixer, increase mixer speed to low-medium, and then knead the dough by hand until it is smooth and elastic, usually about 5-10 minutes.
Spray the inside of a large bowl with cooking oil and place your dough inside. Cover the bowl with plastic wrap or a kitchen towel. Leave it in a warm place until it has doubled in size. This usually takes 1-1.5 hours.
Remove the dough and cut it in two. For the best results, wrap the balls in plastic wrap and put them in the refrigerator overnight, or for a few days. You can use the dough immediately, however. You can also place the dough in the freezer for future use.
Flour a flat surface and roll and shape your dough into a pizza base, making sure you don't let it get any thinner than 1cm. Fold the edges back toward the middle to form the crust. Try to do it all in one direction (i.e. toward the middle, to the middle-and-left, or the middle-and-right) for the best results.
Optional: brush the crust with olive oil.
Pizza Recipes: How to Make Homemade Pizza Sauce
This sauce is super easy to make and is the perfect base for any homemade pizza.
Serves: 4-6 Pizzas (Freeze or Jar for Later!)
Prep Time: 50 Minutes
Ingredients:
2 tbsp olive oil
1 finely chopped small onion (or ½ a large onion)
1 crushed garlic clove
2 cans of chopped tomatoes
3 tbsp tomato puree
2 tbsp dried oregano (or swap for a preferred herb)
3 tsp brown sugar
1 small bunch of basil or 1 tbsp dried basil
Directions:
Heat oil in a saucepan over low heat, and add the onions with a pinch of salt.
Cook until soft.
Add garlic and fry for 1 minute.
Add chopped tomatoes and tomato puree, then add the sugar and herbs.
Bring the sauce to a boil, then lower the heat and simmer uncovered for about 30 minutes, until it has thickened to a sauce.
Optional: blend for a smoother result.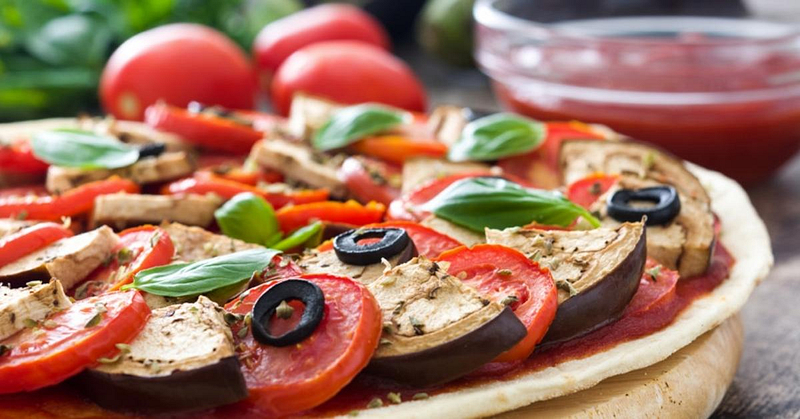 Vegetarian & Vegan BBQ Pizza Recipe
As with pretty much all other foods, you can totally use whichever pellets you like best. If you're not sure, start with a basic wood pellet and see how you like it. Next time, you can try a different flavor of pellet. We recommend hickory if you're going meat-heavy with your toppings, but you can also try something a little sweeter like apple.
For vegetarian or even vegan pizzas, avoid the strong pellets as they have a tendency to overpower your toppings, so stick to things like oak and cherry for a milder flavor.
Ingredients
Pizza base (store-bought or following recipe above)

Pizza sauce base (store-bought or following recipe above)

1.5

cups

shredded mozzarella (or vegan alternative)

¾

cup

cheddar cheese (or vegan alternative)

½

sliced

red pepper

½

sliced

yellow pepper

¼

cup

thinly sliced and separated red onion

¼

cup

jalapeños

¼

cup

sweetcorn

A generous drizzle of BBQ sauce over the top
Instructions
Assemble the pizza in the order of the ingredients.

If you want to add more or less of any of the ingredients, feel free.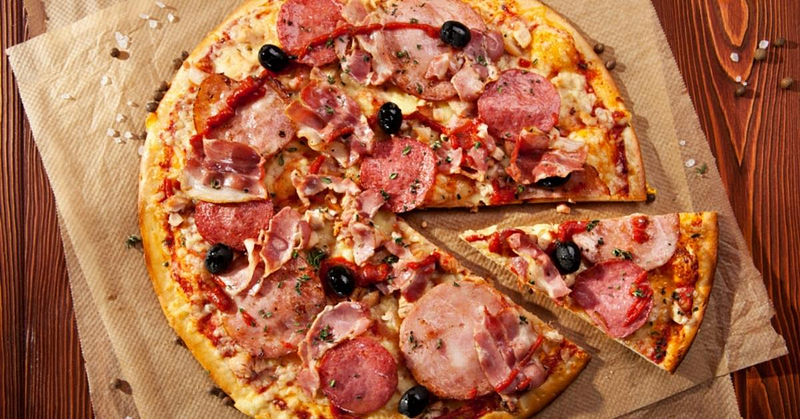 Meat-Lover's Pizza Recipe
If you're looking for a delicious and easy Meat-Lover's Pizza Recipe, look no further! Our step-by-step guide will show you how it's done.
Ingredients
Pizza base (store-bought or following recipe above)

Pizza sauce base (store-bought or following recipe above)

1.5

cups

shredded mozzarella

¾

cup

cheddar cheese

¼

cup

parmesan

½

cup

pepperoni

1

cooked hot Italian sausage

1

cup

cooked crispy bacon
Instructions
Assemble the pizza in the order of the ingredients.

If you want to add more or less of any of the ingredients, feel free.
Pizza is always good, but it's even more delicious when it's homemade and cooked on your pellet grill! Experiment with these recipes and your choice of pellets and let us know how it goes!