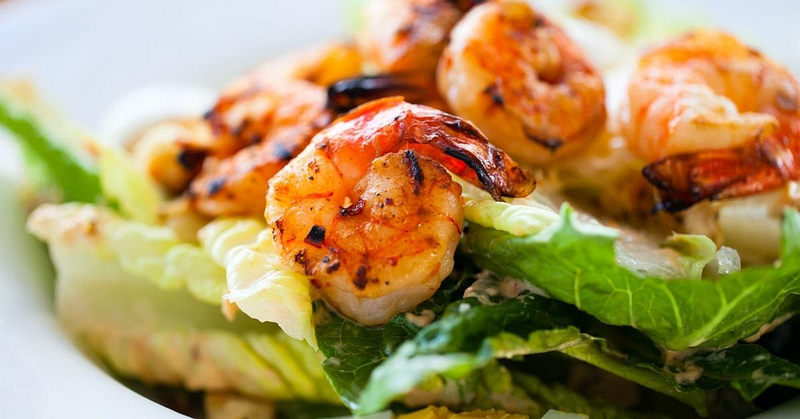 Grilled Shrimp Salad
This grilled shrimp salad certainly doesn't skimp on flavor. It's composed of blackened shrimp, smoked eggs, and champagne vinegar dressing that you'll want to serve on everything. The salad is about the shrimp, but the eggs are a close second. If you've never tried smoked eggs, you should, and this recipe shows you how to make them. You'll never settle for hard-boiled again.
Instructions
Preheat your Z Grills (preferably with branded cherry or applewood pellets) or other wood pellet grill to 325 degrees Fahrenheit.

Place the eggs on the grill grates, close the lid, and smoke for 30 minutes.

Transfer the eggs to an ice water bath.

Once thoroughly chilled, dry the eggs, and peel them. Also, reduce the heat to 180 degrees Fahrenheit.

Return the peeled eggs to the grates and smoke for 30 minutes. Remove from the grill and set aside once done.

Increase the pellet grill's temperature to 450 degrees Fahrenheit.

Add the shrimp to a large bowl with chili powder, paprika, cumin, garlic powder, onion powder, oregano, salt, black pepper, and oil. Toss to combine.

Thread the shrimp onto skewers, transfer to the grates, and close the lid.

Grill shrimp for 2-3 minutes per side, then transfer to a platter.

Whisk the salad dressing ingredients together in a bowl. Also, chop the smoked eggs.

Assemble the salad in the following order: lettuce, eggs, shrimp, and dressing.

Serve and enjoy this grilled shrimp salad with smoked eggs.
Notes
Use older eggs. They are easier to peel.
If using wooden skewers, soak them before use.
Instead of skewers, you can cook the shrimp on a grill mat if you think they may fall between the grates.
Nutrition
Serving:
332
g
|
Calories:
490
kcal
|
Carbohydrates:
17
g
|
Protein:
24
g
|
Fat:
38
g
|
Saturated Fat:
9
g
|
Polyunsaturated Fat:
2
g
|
Monounsaturated Fat:
3
g
|
Cholesterol:
330
mg
|
Sodium:
1540
mg
|
Potassium:
500
mg
|
Fiber:
3
g
|
Sugar:
10
g
|
Vitamin A:
8700
IU
|
Vitamin C:
13
mg
|
Calcium:
150
mg
|
Iron:
3
mg