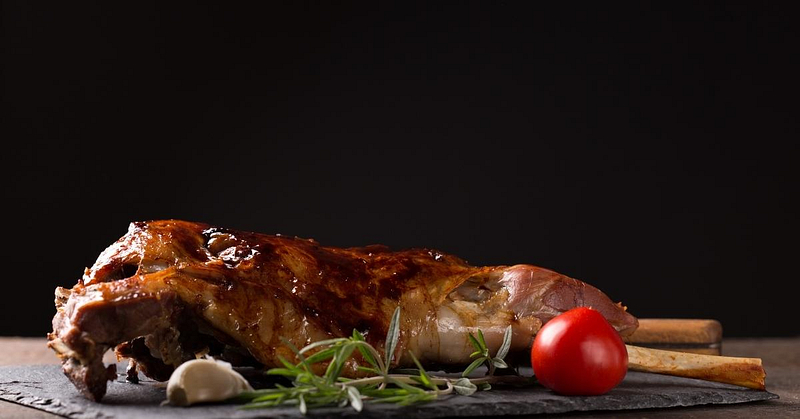 Grilled Butterflied Leg of Lamb
This grilled butterflied leg of lamb is spectacular. Leg of lamb is a premium cut, so you want to make it right. For a successful cook every time, butterfly it. Butterflying allows the lamb leg to lie flat on the grates for even cooking. You can get your butcher to remove the bone and butterfly the leg, but doing it yourself is easy and economical. Once prepped, the lamb spends a few hours in a delicious marinade loaded with Mediterranean flavours before grilling to a perfect medium-rare.
Ingredients
1

(2-kilogram) leg of lamb

1

yellow onion, sliced

4

garlic cloves, peeled and crushed

250

milliliters

olive oil

60

milliliters

fresh lemon juice

60

milliliters

red wine vinegar

2

tablespoons

chopped fresh oregano or thyme

1 ½

teaspoons

sea salt, divided

½

teaspoon

black pepper
Instructions
Use a sharp knife to cut down the length of the lamb leg to expose the bone. Do not cut too deep.

Cut along one edge of the bone until it is visible. Keep the knife blade as close to the bone as possible.

Continue to cut around the bone until you can remove it. Again, keep the knife blade close to the bone.

Lay the boneless leg of lamb flat on a cutting board skin side down.

Cut halfway into the flesh on each side where the meat is thicker. Once the cuts are made, you can open it like a book.

Rinse the lamb and pat it dry.

Combine the onion, garlic, oil, lemon juice, red wine vinegar, herb of choice, and half a teaspoon of salt in a large zipper bag.

Place the lamb into the bag, seal, and move the bag's contents around to coat the lamb well.

Marinate in the refrigerator for 4-6 hours.

Remove the lamb from the marinade and dry it with paper towels. Season both sides with salt and black pepper.

Preheat your Z-Grills (preferably with branded oak or hickory pellets) or other wood pellet grill to 220 degrees Celsius (425 degrees Fahrenheit).

Transfer the butterflied leg of lamb to the grates, close the grill and cook for 30-35 minutes. Make sure the leg of lamb lies flat on the grates.

Open the lid, carefully flip the leg of lamb, close the lid, and cook for another 30-35 minutes or until the internal temperature reaches 54 degrees Celsius (130 degrees Fahrenheit).

Remove the grilled butterflied leg of lamb from the grill and rest for 10 minutes.

Slice the lamb and serve.
Notes
Remove the lamb at 57 degrees Celsius (135 degrees Fahrenheit) for medium doneness and rest for 10 minutes.
Nutrition
Calories:
390
kcal
|
Carbohydrates:
3
g
|
Protein:
58
g
|
Fat:
15
g
|
Saturated Fat:
4.5
g
|
Polyunsaturated Fat:
1
g
|
Monounsaturated Fat:
7
g
|
Cholesterol:
180
mg
|
Sodium:
610
mg
|
Potassium:
820
mg
|
Fiber:
1
g
|
Vitamin A:
2000
IU
|
Calcium:
50
mg
|
Iron:
6.4
mg