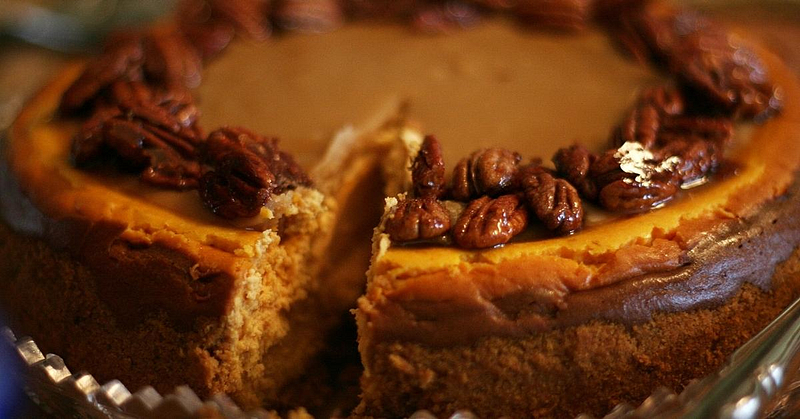 Cheesecake with Bourbon Pecan Topping
Get ready to kick your taste bud to a new dimension with this cheesecake with Bourbon Pecan Topping! The rich flavor of the crunchy graham cracker crust, warm brown sugar cheesecake filling, the caramelized flavor of bourbon, and a gooey pecan pie topping will immediately fill your entire mouth with one bite.
Equipment
Z Grills Wood Pellet Grill

Z Grills Apple Wood Pellets
Ingredients
Crust
12 

ounce 

Oreos

6 

ounce 

melted butter
Filling
24 

ounce

cream cheese – room temperature

1 

cup 

granulated sugar

3 

tbs 

cornstarch

2

large eggs

2/3 

cup 

heavy cream

1 

tbs

vanilla

1 1/2 

tbs 

bourbon
Topping
3 

large eggs beaten

1/3 

cup

granulated sugar

1/3 

cup 

brown sugar

8 

tbsp 

corn syrup dark corn syrup recommended

2 

tbsp

bourbon

1/2 

tbsp 

vanilla

1/8 

tbsp 

salt

3/4 

cup 

rough chopped pecans (smoked pecans recommended)
Instructions
Before You Start
Preheat your Z Grills pellet grill to 350 °F.

Wrap foil on the bottom and up the sides of a 9" spring-form pan (outside of pan). 

Butter the bottom & insides of the pan.
Crust
Throw ingredients in a food processor until they are finely ground.

Spread in 9" cheesecake pan on bottom & about ½ way upsides.
Filling
Place 8 oz of cream cheese in mixer bowl with 1/3 of sugar & cornstarch.Mix until smooth andcreamy. 

Add another 8 oz cream cheese andbeat until smooth, then add remaining cream cheese,beating until smooth.

Then mix in the rest of the sugar, bourbon & vanilla.

Add eggs one at a time beating well after each one. 

Add the heavy cream and mix just until smooth. Reminder: Do not over mix.

Pour batter into the prepared crust.
Topping
Mix all together except pecans. 

Sprinkle pecans on top of cheesecake batter. 

Pour topping over cheesecake batter.  

Place in a pan big enough to hold a spring-form pan. Pour boiling water in the roasting pan to come up about ½ way up the spring-form pan.  

Bake at 350 °F for 75 minutes until the top just barely jiggles. Carefully take the pan out of water-bath and put on cooling rack. 

Let cool for 2 hours in pan. After 2 hours put in fridge until totally chilled then serve.