Pork chops are a flavorful favorite that many of us love to enjoy. There are many different ways to prepare a good pork chop, but today, we are going to explore the delicious treat that is reverse seared pork chops. These pork chops are packed full of flavor and will always be a big hit with guests. Fortunately, this is one beginner-friendly recipe that anyone can do—and it will make your friends and family think that you are one truly talented chef!
Add a header to begin generating the table of contents
Prepping Your Pork Chops
You can use the following steps to prepare your pork chops before you cook them.
Selecting the Proper Pork Chops
Choosing the right pork chops is a very important step when it comes to creating the perfect recipe. For reverse seared pork chops, you will want to find pork chops that have a thicker cut and some marbling. Look for pork chops that are at least 1 inch thick.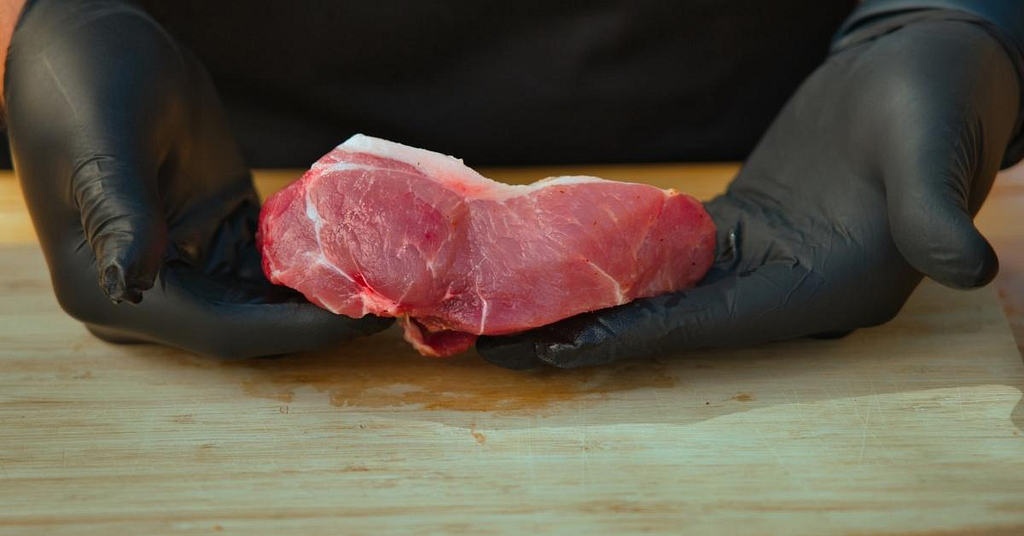 Make Sure the Pork Chops Are Dry
Before you start seasoning your pork chops, you will want to remove any excess moisture that might influence the way that they cook. Be sure to use a paper towel to dry off your pork chops—taking care to dry all sides.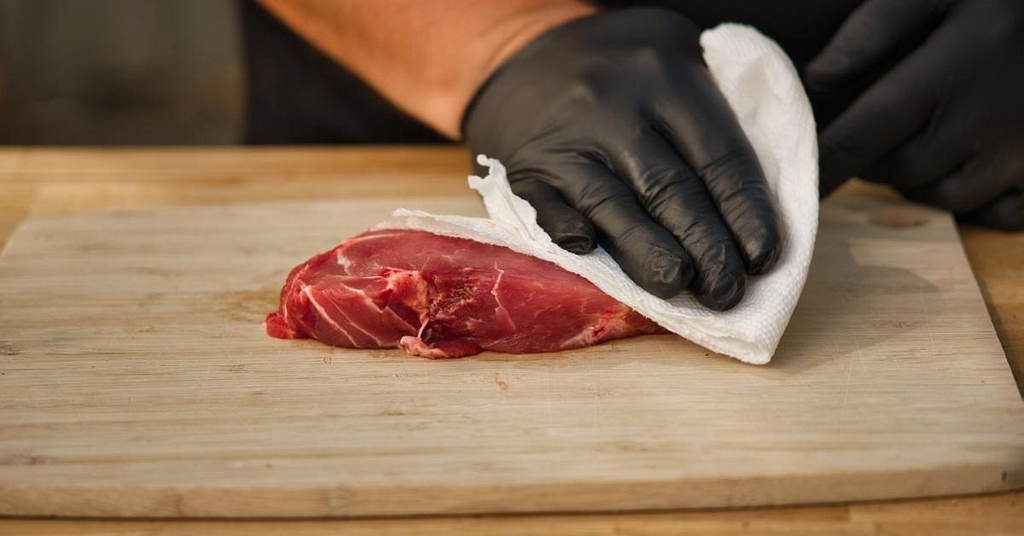 Coat the Pork Chops Very Lightly with Olive Oil
Olive oil can help your pork chops to cook perfectly. Gently coat the pork chops on all sides with a light layer of olive oil. The olive oil is there to help the rub stick to the pork chop and will help it to sear in the end, so be sure to distribute it evenly.
Season the Pork Chops with Your Favorite BBQ Rub
You will want to use a delicious BBQ rub to season your pork chops and give them flavor. For our recipe, we chose the Bearded Butchers Hollywood Blend rub. To properly season your pork chops, you will want to add a generous coating of the seasoning on each side. Using the back side of your glove—which should be dry—pat the rub into the surface of the meat. Make sure that the rub sticks to the oil and adheres to the meat evenly. It can also be beneficial to put some of the rub onto the board and press the meat into it to really work in the seasoning. Repeat as needed.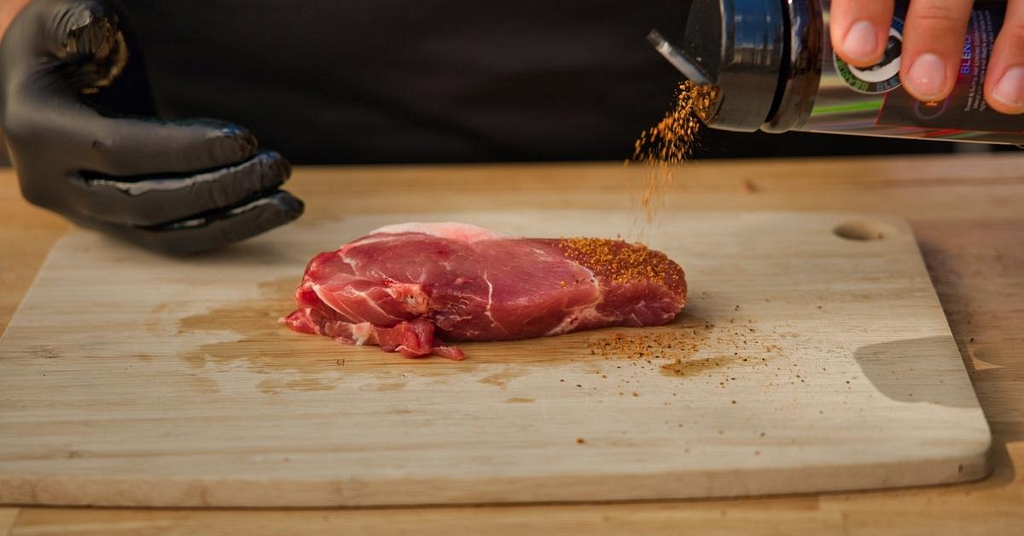 How to Reverse Sear Pork Chops Step-by-Step
Reverse seared pork chops are incredibly easy to make. Follow these steps for perfect pork chops every single time.
Preheat the Z Grills Pellet Grill to 225℉
Before you begin cooking, it is important to get your grill up to temperature. Set your Z Grills pellet grill to 225℉ for this process. Be sure to allow the grill to reach temperature before you start cooking.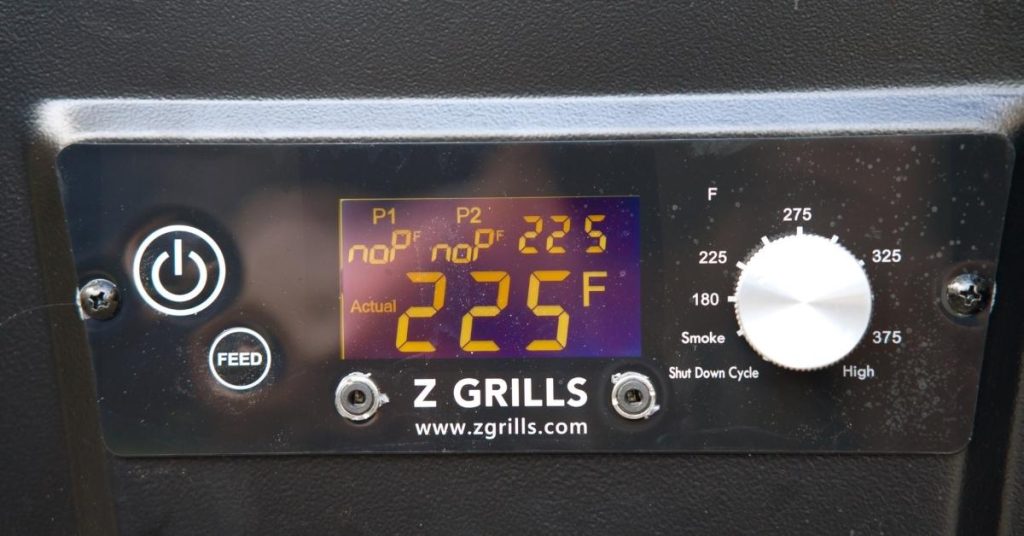 Cook at 225℉ for Roughly 1 Hour
Pork chops can cook surprisingly fast, which makes this a wonderful weekday recipe. You will want to cook your pork chops for roughly one hour, depending on how much you are cooking and how thick the meat is.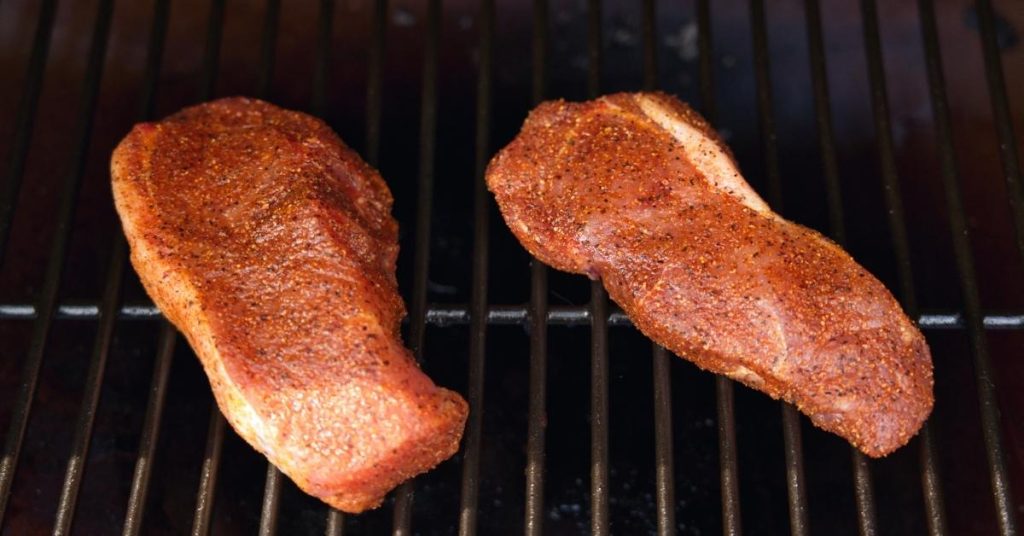 Check the Internal Temperature of the Pork Chops
When the meat is done cooking completely, the pork chops should be at least 145℉. However, since we plan to sear these pork chops, you can pull them out at 130℉ to 135℉. Using an instant meat thermometer, check the internal temperature to be sure that the meat is in the right range. Your goal is to find a temperature that is 10℉ to 15℉ lower than the final cook temperature. Remove the pork chops when they meet this range.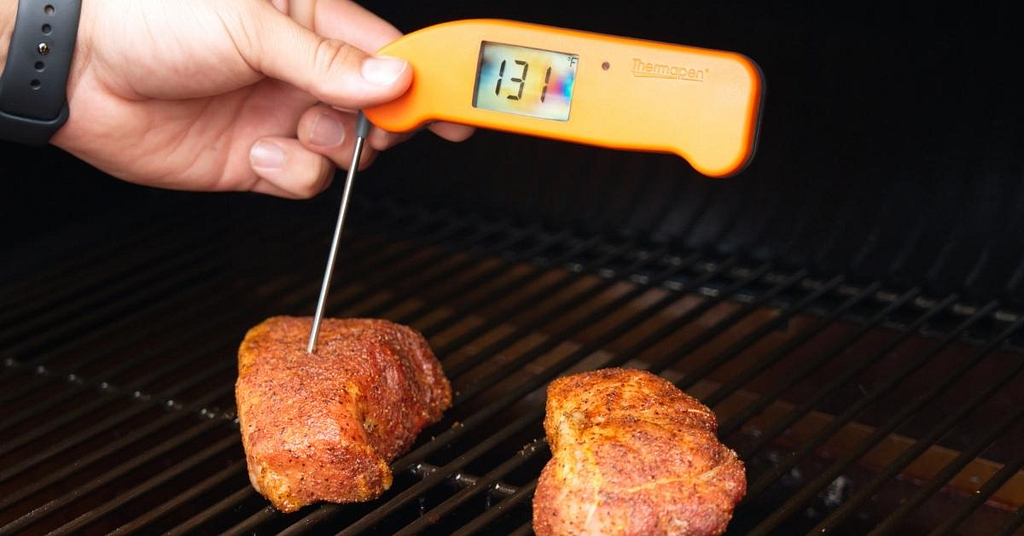 Place the Pork Chops Back into the Grill
Now that your pork chops are almost done cooking, it is time to sear them. You will want to start by drastically increasing the temperature of your Z Grills Pellet Grill to 400℉ or above. Allow the grill to heat up to this temperature before you continue.
After your pellet grill reaches this temperature, you can place the pork chops back into the grill. Your goal is to sear your pork chops just like you would a steak, so be sure to keep an eye out for some nice grill marks to really add that perfect finish. Continue to cook the pork chops until they get closer to 145℉.
Brush the Pork Chops with Bachan's Japanese BBQ Sauce
Just before your pork chops reach that perfect temperature, it is time to add the final burst of flavor. You will want to add a fine layer of barbecue sauce to finish these off. For our recipe, we use Bachan's Japanese BBQ sauce. This offers a sweet and savory finish—but you can choose other sauces depending on your preference.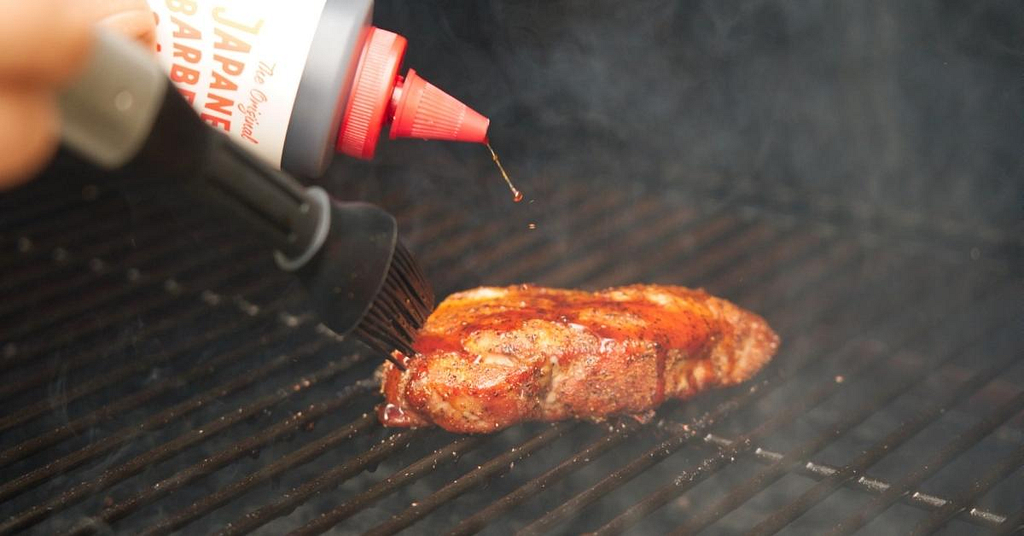 Remove the Pork Chops from the Grill
When the seared pork chops reach that final 145℉, it is time to pull them out and serve them up. You will want to remove them from the grill, then cover them with foil for 5 to 10 minutes before serving. The pork chops should be juicy and delicious inside but flavorful and visibly seared on the exterior, offering a nice, browned appearance.
Using the Z Grills 700 series, you can receive consistent cooking, a juicy interior, and a perfectly cooked and flavorful exterior. You will want to make this recipe again and again!
If you're looking for a new grill, Z Grills is the ideal choice for your first wood pellet grill. We're a grill manufacturer with over 30 years of experience within the industry. With over 650,000 pellet grills sold and 85 million cooks made.
What Goes Well with Reverse Seared Pork Chops?
Pairing your reverse seared pork chops with a delicious set of sides is the best way to take an amazing meal and make it that much better. To add a touch of fine dining to your table, consider this grilled shrimp salad. For plenty of veggies to balance that delicious slice of meat, you can try pairing it with grilled pepper and onions as well. For more of a barbecue-focused meal, try pairing this with smoked corn on the cob too!
Pro Tips for Perfect Reverse Seared Pork Chops
Making reverse seared pork chops is easy as long as you know how to get the job done. These tips will help you to enjoy that perfect pork chop every time.
What Temperature Are Pork Chops Done Cooking at?
Pork chops should always be cooked to a minimum of 145℉. However, the ideal temperature can vary in response to the thickness and size of the meat being cooked. In some instances, you might want to allow pork chops to reach a higher temperature. Be sure to test the temperature at the thickest part of the meat.
What Are the Best Wood Pellets for Reverse Seared Pork Chops?
To bring out the most flavor in your reverse seared pork chops, we recommend using the Z Grills apple hardwood pellets, which offer a subtle flavor that can balance some of the sweetness in the barbecue sauce and seasoning.
How Long Does it Take to Make Reverse Seared Pork Chops?
Reverse seared pork chops should be cooked for 40 minutes to an hour. However, actual cook times may vary depending on the thickness of the meat. Always focus on achieving the correct internal temperature above all else.
Z Grills Reverse Seared Pork Chops
Equipment
Z Grills 700D3 Wood Pellet Grill

Z Grills Apple Wood Pellets

instant-read thermometer

Tongs

Basting brush

Silicone Brush
Ingredients
Thick Cut Pork Chops (1 inch thick or thicker)

Olive Oil

Your Favorite BBQ Rub ( I chose the Bearded Butchers Hollywood seasoning)

Bachans Japanese BBQ Sauce
Instructions
Dry off the pork chops thoroughly with a paper towel.

Coat the pork chops very lightly with olive oil, be sure to coat the entire chop. The purpose of the olive oil is to help the rub stick, as well as help with the sear at the end.

Now generously season the pork chops on all sides with your favorite BBQ rub.

Set your Z Grills pellet grill to 225F, and place the pork chops in the center of the grill once it is up to temperature. Cook the pork chops until the internal temperature reaches a minimum of 145F. We will be searing these at the end so pull the meat off the grill at 130-135F. Using an instant read thermometer check the internal temperature and remove from the grill about 10-15F prior to desired final temperature.

Now crank the grill up to the HIGH setting and let the grill heat up to at least 400F before placing the pork chops back onto the grill. Sear until the internal temperature reaches 145F.

Just before we reach that desired final temperature, put a nice coat of Bachans Japanese BBQ sauce on the chops, which gives a nice sweet and savory finish!

Once the pork chops reach the desired final temperature remove from the grill and cover with foil for 5-10 minutes. Now it's time to enjoy!
Video
More Delicious Pork Chops Recipes