This well-balanced smoked chili is the best chili you'll ever taste. Smoked chili is a game-changer, and this one has just enough of everything—you'll love the beans, onions, seasonings, garlic, tomato base, and seasoned ground beef when they absorb the smokey flavor of your choice.
Add a header to begin generating the table of contents
How to Choose the Perfect Chili
When making smoked chili, you can really use any chili recipe (yes, even a copycat Panera Bread Turkey Chili recipe).
But we highly recommend using the recipe included below. It features the perfect blend of veggies, beans, meat, and seasonings for a well-balanced flavor.
You can also make this chili your own by adding celery, carrots, fresh tomatoes, and other bean varieties!
If you don't want to use this exact recipe, we recommend modifying it slightly rather than using an entirely different chili recipe (unless it's your great-great-grandfather's recipe—we can't say no to that!).
Equipments and Ingredients for Smoked Chili
Be warned. This smoked chili recipe is over the top, and it's a bit involved.
You're going to need some equipment that you may not usually use when grilling. Here's what you'll need:
A cast-iron Dutch oven
An extra grill grate
Extra virgin olive oil
Pepper and onions
Fresh garlic
Chili powder
Garlic powder
Crushed tomatoes
Petite diced tomatoes
Red kidney beans
Ground beef
Worcestershire sauce
Kosher salt
Black pepper
Montreal steak seasoning
Cocoa powder, optional
Why Choose Z Grills and Wood Pellets
Use a Z Grills pellet smoker with Z Grills wood pellets for this smoked chili recipe.
Z Grills Pellet Smokers
You'll love Z Grills pellet smokers because they deliver authentic wood-fired flavor with precise temperature control. Z Grills come in a range of models, all sold at affordable prices with amazing quality.
Our grills are designed for grillers of all experience levels so that anyone can feel confident grilling. About pellet grill buying complete guide right here.
Z Grills Wood Pellets
Z Grills wood pellets are superior because they deliver great smoke, and here's why:
Z grills wood pellets are always American-made.
They contain 100% all-natural hardwood with no additives.
Z Grills wood pellets have a low moisture content, so they burn cleanly and efficiently.
For this smoked chili recipe, we recommend using wood pellets rated light to medium. Even though this smoked chili uses red meat, it's easy for the smoke to become overpowering.
For this smoked chili, we recommend using:
How to Smoker Chili on a Pellet Grill
Here's how to make the best smoked chili you'll ever have. You'll love the robust smokey flavors and well-balanced seasoning.
1. Prepare the Chili Base
Of course, the smoking process of this smoked chili is what makes it so special. But this smoked chili would be nothing without a well-balanced chili base.
To prepare the chili base, you'll sauté the onions, peppers, and garlic. Then, you add all the other ingredients (chili powder, garlic powder, crushed tomatoes, diced tomatoes, and kidney beans) and set it aside. It's that easy.
2. Create the Ground Beef Loaf
You'll also find great flavor in the seasonings we add to the ground beef. You'll combine the ground beef with Worcestershire sauce, salt, pepper, and Montreal steak seasoning for optimal flavor.
3. Preheat Your Pellet Smoker
Once your ingredients are prepped, it's time to get your Z Grills pellet smoker ready. Preheat the grill to 300°F using light to medium wood pellets. Even though we are smoking red meat, pellets well-suited for poultry, fish, and vegetables work best for this smoked chili.
4. Set Up the Ground Beef and Chili in Your Pellet Smoker
Now, things are about to get complicated. To smoke this grilled chili, you'll need to stack the Dutch oven and ground beef with a grill grate between them. This process allows both parts of the grilled chili to smoke separately.
It also ensures that the delicious juices from the cooked beef drip into the chill base. This is crucial!
5. Smoke for 4 hours
You'll smoke the beef and chili base this way for two hours. Once the internal temperature of the beef reaches 145°F, you'll crumble the beef into the chili base and smoke the chili for an additional two hours.
6. Add Cocoa Powder and Enjoy
This final step is optional but recommended. Add in a little bit of cocoa powder to intensify the flavor of the chili. Stir well and enjoy your smoked chili!
What to Serve with Smoked Chili
We recommend enjoying this smoked chili on its own. But you can always pair it with toasted bread, like this smoked beer bread.
Best Times and Temperatures for Smoked Chili
When making smoked chili, the most important thing is that the center of your ground beef loaf reaches 145°F. When cooked at 300°F, it should take about 2 hours.
Even though the chili is safe to eat at this point, we recommend smoking it for an additional 2 hours after that. This will help all the flavors blend together in the chili.
Smoked Chili Tips and FAQS
Grilled chili isn't a pellet smoker staple like chicken or steak—so if you've got questions, that's normal. Here are some of the most frequently asked questions about smoked chili.
1. What is the Best Secret Ingredient in Chili?
In this smoked chili recipe, we use cocoa powder as a secret ingredient. It complements the flavors. You don't taste it at all! Instead, the chili and garlic taste bolder.
2. What is the Best Meat to Use for Chili?
Ground beef is a classic choice for chili. It makes the chili fast and easy, and it's inexpensive.
Thanks for reading, your questions and comments are welcome, just like you're welcome to share this and any article from the site with friends.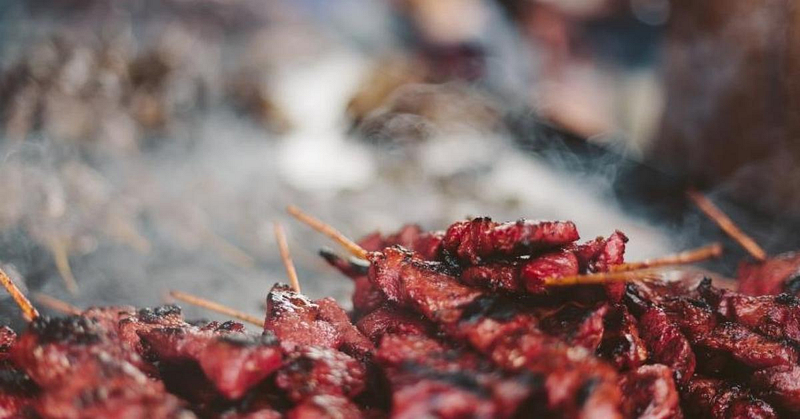 Smoked Chili
This is the best smoked chili recipe you'll ever have! Try it, and you won't regret it.
Ingredients
For the chili base
2

tbsp

extra virgin olive oil

2

large yellow onions, diced

3

large green bell peppers, diced

2

cloves

garlic, minced

1 1/2

tbsp

chili powder

1

tbsp

garlic powder

1 (28 oz)

can

crushed tomatoes

1 (28 oz)

can

petite diced tomatoes

1 (15.5 oz)

can

red kidney beans, drained and rinsed
For the smoked ground beef loaf
2 ½

pounds

(85/15) or (80/20) ground beef (lean beef/percent fat)

2

tsp

Worcestershire sauce

2

tsp

kosher salt

½

tsp

fresh cracked pepper

1

tsp 

Montreal steak seasoning

1

tsp

cocoa powder, optional
Instructions
Prepare the chili base by heating olive oil over medium-high heat in a cast-iron Dutch oven. Sauté onions and bell peppers until translucent. Add garlic and sauté for 1-2 minutes more, until garlic is fragrant but not browned.

Add chili powder, garlic powder, crushed tomatoes, diced tomatoes, and kidney beans. Stir and set aside.

Combine ground beef, Worcestershire sauce, salt, pepper, and Montreal steak seasoning in a large mixing bowl.

Gently form the ground beef mixture into a loaf. You want it to be solid but not packed.

Preheat your Z Grills pellet smoker to 300°F.

Once the grill is preheated, place the Dutch oven (with the chili base inside of it) uncovered directly on the grill grate.

Place a grill rack over the Dutch oven.

Place the seasoned ground beef loaf on top of the grill rack, so that the juices from the beef drip into the Dutch oven as it cooks.

Cook until the internal temperature of the ground beef loaf reaches 145°F, about 2 hours.

Break up the beef with tongs, allowing it to fall through the grate into the chili base.

When all of the beef is crumbled into the chili, cook for an additional 2 hours.

Remove chili from heat and stir in the cocoa powder. This is optional to bring out the flavors of the chili.
Amazon Basics Enameled Cast Iron Covered Dutch Oven, 6-Quart, Purple
6-quart cast iron dutch oven pot for cooking and baking in the oven or on the stovetop; Oven safe up to 400 degrees Fahrenheit
Smooth enamel finish provides long-lasting durability and non-stick convenience
Cast iron provides even heat distribution and retention; Hand wash only
Dual side handles and fitted lid
Roast meat, bake bread, marinate food, sauté vegetables, prepare soups, stews, casseroles, and more
McCormick Dark Chili Powder, 7.5 oz
McCormick Dark Chili Powder always starts with whole, ripe peppers
A robust blend of ripe peppers, garlic, salt and spices
Slightly sweet flavor that is just a little hotter than our regular chili powder
Adds rich earthy flavor and deep color to Southwestern chili and Tex-Mex tacos
Rub Dark Chili Powder on beef, pork or chicken before grilling