A pork crown roast is one of those cuts that look absolutely incredible on the table but are actually pretty easy to do – but don't tell your guests that! A smoked pork crown roast has been known to get a round of applause when it is brought to the table and sighs of pleasure when everyone tucks in.
A pellet grill is ideal for preparing this imposing cut of pork, whether it's a big, cutting edge pellet grill with WiFi or a more modest portable pellet grill, they all add a beautiful rich smokiness to what is already a flavor-filled piece of meat.
Add a header to begin generating the table of contents
What is a pork crown roast?
A pork crown roast is the porcine equivalent of a prime rib roast and is just as tasty. You can either buy a rack of pork and form the crown yourself – it's not that difficult, I promise – or order it from your favorite butcher, though you need to give them a little notice. Actually, one rack may not be enough. Those 10 to 12 connected pork rib chops will only go so far and make a pretty compact roast. If you're having a party and working on the two ribs per person formula, you'll be better off with a crown of 18 to 20 ribs.
Another beauty of pork, apart from the taste and succulence (!), is that it is healthy. Pork meat is full of protein and high in micronutrients. Pork is one of the richest sources of protein and contains all nine of the essential amino acids – vital for your body's wellbeing. It is also particularly rich in thiamine, selenium, zinc, iron, phosphorus, many of the B vitamins, and lots of other vitamins and minerals.
How to prepare a pork crown roast
If you decide to go the hands-on DIY route rather than let your butcher do the work, you're going to need a rack of pork ribs or two. To prepare the crown you should do the following steps:
Score the fat cap to produce diamond shapes.
Mix kosher salt, freshly ground black pepper, and cayenne pepper and rub into both sides of the rack(s).
Leave for a few hours to let the brine have its effect.
Lay the pork, fat side down, on a large chopping board and slice between the pork ribs. You only need to go in a few inches. You want to leave the rack in one piece but make it flexible enough to form into a crown. Don't rush. You can always make the cuts a little deeper if you have to.
If you are using two racks, using a meat trussing needle, and some butchers twine, tie the two together.
Form the crown with the fat cap on the inside and join the two ends with some more twine.
Add another loop of twine around the whole crown to help it keep its shape.
How to cut a pork crown roast
When the crown is cooked it is easy, and impressive, to carve at the table. Place the crown on a sturdy cutting board, hold still with a meat fork, and slice between the chops with a sharp knife.
Equipment and ingredients you need for a smoked pork crown roast
Apart from a pellet grill, wood pellets, salt, black pepper, and cayenne, you don't need much in the way of either equipment or ingredients to cook this lovely cut. Just grab your heat-protective gloves and some tongs. You may want to get some of those little paper frills that traditionally adorn the bones – they're pretty fun and can be bought in various colors for a little festive cheer.
What are the best wood pellets for smoking pork crown roast?
Whichever wood pellets you choose make sure they are of good quality. Z Grills wood pellets are all-natural hardwoods, sourced from U.S. mills and free from binders and fillers. Apple is a great choice for pork, but Fruitwood, Cherry, Competition Blend, and Hickory, all work well. And you can never go wrong with Oak.
Are there portable pellet grills for smoked pork crown roast?
While you could use a top-of-the-range, WiFi-enabled grill like the Multitasker 11002B for smoking your crown roast, why not spread your wings and take your cooking wherever you fancy. Our new Cruiser 200A portable pellet grill was designed with adventure in mind. However you want to cook, the 200A can do it all in a compact, easy-to-transport package. It really does put a messy, hard-to-control charcoal grill in the shade. It hasn't been on the market very long and is already enjoying 5-star reviews.
How to smoke a pork crown roast on a pellet grill
Set your pellet grill to 225F
Place the prepared crown roast in a cast-iron skillet, dust with a little more brine, and pour ½ cup of apple juice into the skillet
Smoke until the internal temperature of the meat reaches 135F(around 4 hours)
Raise the temperature of the pellet grill to 450Fand blast the crown roast for 10-15 minutes until the internal temperature reaches 145-150F. Always trust your temperature probe, don't try and guess
Remove the crown roast, cover with foil, and allow to rest for a good 15 minutes
Show everyone what a great cook you are and carve the best pork crown they have ever had
What to serve with pork crown roast
Anything you normally like to eat with pork will be delicious, here are some of our favorites:
Mashed potatoes (naturally!)
Baked apples or applesauce
Roasted cauliflower
Crusty bread
Roasted sweet potato
Cannellini beans with spinach
What pellet grill temperature to smoke a pork crown roast at 
Set the grill at 225F and cook until the internal temperature of the meat gets to 135F. Turn up the grill to 450F and give the crown roast another 10-15 minutes until the internal temperature reaches 145-150F.
How long does it take to smoke a pork crown roast?
The precise time depends on the size of the pork crown you are cooking and is based on the internal temperature of the meat. As a guide, a 12-16 rib rack will take around 4 hours but cook to temperature, not to time.
A pellet grill and a crown pork roast are a partnership that leads to culinary heaven. A crown roast of pork looks sensational and tastes even better than it looks. Plus – it is easy to do. And with a Z Grills Cruiser 200A, you can enjoy it anywhere, whether you're tailgating, out in the woods camping, or headed over to a friend's house to have a beer and watch the game.
If your grill isn't giving you the results you deserve, what are you waiting for? Upgrade to a Z Grills to upgrade your grilling game now.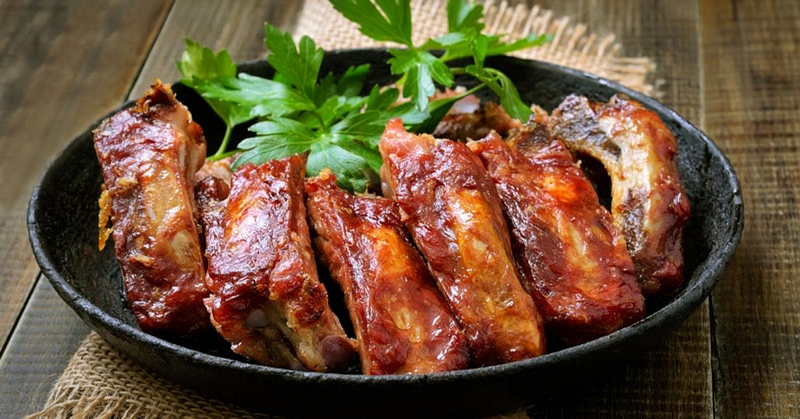 Best Crown Roast of Pork Recipe
The best crown roast of pork recipe is delicious and easy to cook, you'll love it.
Ingredients
pork crown of about 12 ribs

6

tablespoons

kosher or sea salt

2

tablespoons

freshly ground black pepper

1

teaspoon

cayenne pepper

½

cup

apple juice
Instructions
Mix the salt, black pepper, and cayenne pepper in a small bowl and rub into both sides of the pork crown roast and refrigerate for three hours or overnight.

Remove the crown from the refrigerator and allow it to come to room temperature.

Heat the pellet grill to 225F.

Place the pork crown in a cast-iron skillet, dust with a little more of the brine mixture, and pour in ½ cup apple juice.

Place the crown roast in the pellet grill and cook until the internal temperature reaches 135F.

Turn up the grill to 450F and give the pork another 15 minutes or so, until the internal temperature reaches 145F.

Remove the cooked crown roast from the pellet grill, cover in foil, and allow to rest for at least 15 minutes.

Serve to a standing ovation.