If you're wondering how to grill shrimp so it's the most delicious shrimp you've ever eaten, you're in the right place! Yes, we know our promises are high, but we promise if you follow this guide on the best way to grill shrimp on a pellet grill, you'll agree with us!
Grilling shrimp on the pellet grill is the best and fastest way to add more flavor, and it's also incredibly versatile. Grill on skewers for the perfect backyard party food, or grill your shrimp individually and add to salad or rice for a delicious lunch or dinner. Read on to learn everything you need to know about how to grill shrimp!
Add a header to begin generating the table of contents
What Ingredients Do You Need for Grilling Shrimp?
To make grilled shrimp you will obviously want to find good quality shrimp, preferably as fresh as you can get. What you put on your shrimp is really up to you, but popular seasonings for shrimp include:
garlic
salt
Italian seasoning
red pepper flakes
lemon juice
If you're not sure what you like, follow the recipe we've included in this guide for your first try of grilled shrimp.
What Equipment Will I Need for Grilling Shrimp?
One of the great things about grilling shrimp is that you need minimal equipment and just a small number of ingredients to get perfectly cooked, tasty shrimp.
The most important piece of equipment to create BBQ shrimp is obviously the grill!
Recommended Grills
With a Z Grills pellet grill, you can be sure that your shrimp will cook at the perfect temperature from start to finish for the best grilled shrimp every time.
If you are just looking to get started in the world of grilling, our 5502H wood pellet grill will be perfect for you. With 8-in-1 cooking and easily stored, this pellet grill is affordable and a great starter grill.
If you are more experienced with a grill but have only ever used charcoal or gas, you will find that a grill like the Master 700E Pellet Grill is a change you won't regret.
We have a huge range of pellet grills available to choose from, so no matter your skillset, you are sure to find the right grill to suit you.
Other Equipment
You do have the option of putting your shrimp onto skewers before putting them onto the grill, but other than that, there really is nothing else!
If you are going to use skewers and you opt for wooden skewers, make sure that you take the time to soak them beforehand otherwise the wood will burn.
If you're cooking them loose, you'll need a pair of tongs and if they're relatively small shrimp you think may fall through your grates, a grilling mat will keep them in place.
How to Grill Shrimp on a Pellet Grill
First, you need to decide whether you are going to season your shrimp right before sticking it on your pellet grill or whether you want to marinate it beforehand.
If you choose to marinate your shrimp, you will want to do this for at least 30 minutes, but it is best if you can let it sit in the marinade, in your refrigerator, for up to 8 hours. This will give more time for the flavors to actually permeate into the shrimp.
Be aware that if there is citrus in your marinade, i.e. lemon or lime juice, you should be sure that you cook your shrimp within 2 hours as the citric acid will start to break down the proteins in the shrimp, making it mushy. Definitely not what you want!
Again, if you're not sure what you'll like, start with the grilled shrimp recipe at the end of this guide.
As for the actual grilling, grilling shrimp on a pellet grill is super simple:
Pre-heat your pellet grill to 350F.
Coat your shrimp with your choice of seasoning or get your pre-marinated shrimp out of the refrigerator and thread it onto skewers if you are choosing to do so.
Place your shrimp directly onto the grill individually or on skewers.
Let the shrimp cook for 2 – 3 minutes.
Turn the shrimp over and let them cook for a further 2 – 3 minutes.
As long as they are opaque and pink, it is time to remove your perfectly grilled shrimp and serve!
Should I Grill Shrimp with or without the Shells?
You can grill shrimp both with shells and without shells, it simply depends on your preference.
Some people find that by leaving the shell on it makes sure that the shrimp stays tender when grilled on a high heat. The main problem with this is that you will have to wait until after the shrimp are cooked to season, which just isn't as good.
With a Z Grill pellet grill, you won't have to worry about this as they work to maintain the temperature that you set. You can shell your shrimp before grilling and lock in your tasty seasoning through grilling.
Best Ways to Serve Grilled Shrimp
There are so many different ways to serve grilled shrimp, it really comes down to what you like to eat. Here are a few ideas on the best ways to serve grilled shrimp:
With rice, couscous, or quinoa: Grilled shrimp goes really well on a bed of rice, quinoa or couscous, especially when seasoned with citrus or spicy blend.
With a salad: Since seafood is already really good for you, why not make your meal super healthy by adding your grilled shrimp to a salad? You could try something simple like a chopped, Caesar, Wedge, or Cucumber salad, or grilled shrimp works well with fruity flavors such as you get with a strawberry salad or watermelon salad.
Shrimp tacos: If you want something a little heartier and filling, you could make a side of garlic and rosemary potatoes, or make some grilled shrimp tacos!
With grilled vegetables: Alternatively, to make the most of your grill, grill a whole load of vegetables on your pellet grill, like peppers, onions, and asparagus, to cook up a delicious, healthy, grilled treat.
Add it to your pasta dishes: if you're not one for salads, add your shrimp to your pasta dishes!
What Temperature Should You Grill Shrimp at?
The best temperature to grill shrimp at is 350F. Since shrimp cook very quickly, anything hotter than this increases the risk of overcooking, leaving you with rubbery shrimp. (Yuck.)
Further reading: Smoking times and  temperatures chart
How Long Should You Grill Shrimp for?
Shrimp cook time should only be about 5 or 6 minutes total, grilling each side for just 2-3 minutes.
When your shrimp are ready to come off the grill they will be pink and have become opaque.
Cooking times may vary slightly if you are using particularly big shrimp, but it is important to keep a watchful eye when grilling shrimp as it will always take just minutes.
Grilled shrimp is not only delicious, but also a super quick way to cook your shrimp whether that be for lunch, dinner, or a cookout with friends and family. If you find your shrimp aren't cooking evenly or are coming off the grill rubbery, it may be time to upgrade your pellet grill.
No matter how you like your grilled shrimp, a Z Grills pellet grill will make sure that you get your shrimp right every time, keeping the temperature just where it needs to be. Throw plenty of veggies onto the grill with them and serve with pasta, salad, and grains for a delicious summery meal any time of year.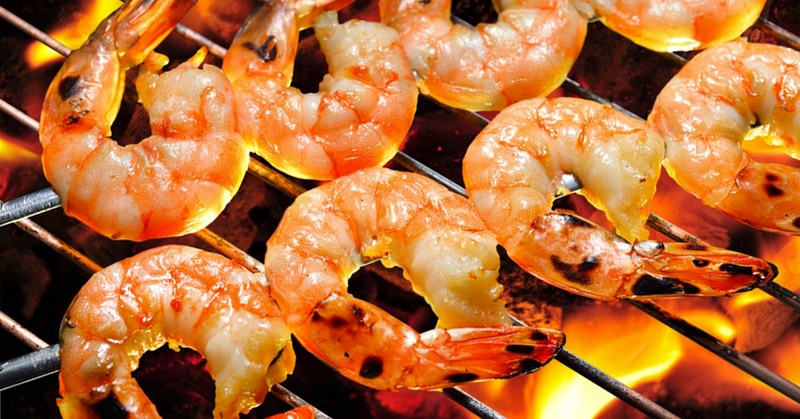 Grilled Shrimp with Garlic
Check out this recipe for the most delicious grilled shrimp, the perfect addition to salads, grains, and pasta dishes.
Ingredients
24

large shrimp, shelled and deveined

¼

cup

olive oil

3

tbsp

thyme leaves, freshly chopped

1 ½

tbsp

ancho chili powder

6

cloves

of garlic, roughly chopped

Salt and pepper
Instructions
In a bowl, add together the olive oil, 2 tbsp of thyme, the ancho chili powder, and the garlic and whisk together until mixed well.

Add your shrimp to the marinade, as is or on skewers, and leave in the refrigerator for up to 8 hours.

When you're ready to grill, set the temperature to 350F.

Once your pellet grill has reached temperature, remove your shrimp from the marinade and season with salt and pepper.

Place the shrimp on the grill and cook for a maximum of 3 minutes on each side, until just golden brown.

Remove the shrimp from the grill and serve with whatever you fancy, making sure to sprinkle over the remaining thyme leaves as garnish. Enjoy!
Recommended Tools for Make grilled shrimp
McCormick Italian Seasoning, 6.25 oz
Authentic taste of perfectly blended Italian-style herbs and spices
All-natural; no artificial flavors or MSG added*
Great on chicken, salads and vegetables
Recipe tip: For baked ziti with the essence of Italy, just add 2 tsp to one package (16oz) of ziti, ricotta cheese, and tomato sauce
FUN FACT: This classic combination of aromatic herbs like thyme, oregano and basil adds flavors of the Italian kitchen to your dishes
Amazon Brand – Happy Belly Sea Salt, Fine Ground, 16 Ounce
16-ounces of Happy Belly Sea Salt
Packaging may vary
Kosher certified
Fine ground salt crystals dissolve easily for balanced flavor. Convenient for cooking, baking and finishing
Our fine sea salt is created by sea water that has been evaporated by the sun
McCormick Garlic Powder, 8.75 Oz
Smoother and more mellow than raw garlic
Made from fresh, whole garlic cloves that have been dried and ground
Powdered garlic disperses completely and evenly into your dishes
Use 1/4 tsp. garlic powder in place of 1 clove of fresh garlic
Non GMO
Note
This post contains affiliate links. Please read my full disclosure here: https://blog.zgrills.com/affiliate-disclosure/