You'll love this quick and easy lobster tail recipe because it will deliver the best baked lobster you've ever eaten, guaranteed!
Cooking lobster tails on your pellet smoker is a great decision. It brings wood-fired flavor from oak pellets, and this meal is ready in about 30 minutes. Enjoy with surf n' turf, on their own, or with sides. Either way, these baked lobster tails are to die for.
Add a header to begin generating the table of contents
How to Choose a Fresh Lobster
Choosing great lobsters for this lobster tail recipe can be daunting if you're not sure what you're doing. Luckily, we think that choosing the best lobster possible is the first step when learning how to cook lobster. Here's what you need to know.
Fresh Lobster vs. Frozen Lobster
You can purchase frozen lobster tails. Our advice? Don't.
Fresh lobster will bring the best flavor. Once a lobster dies, it can spoil in as little as one hour. If you must go with frozen, be sure you're only getting tails or claws. Whole lobsters should always be fresh.
Now, when it comes to choosing a fresh lobster, you need to make sure it's healthy. Here's how:
Pick it up. Its claws, legs, and tail should all be moving.
Hold the lobster by its upper shell. It should hold its claws above its heady. Drooping claws are a bad sign.
Lobsters that don't move are generally unfit to eat.
Hard Shell vs. Soft Shell
Every so often, lobsters shed their shells when they grow out of them. Soft shell lobsters are lobsters that have recently shed their shell. So, their new shell is softer and weaker.
Generally, hard shell lobsters are the best choice because they deliver a higher meat yield and travel better.
Soft shell lobsters should only be eaten locally.
Lobster Tail Recipe Equipment and Ingredients
To make baked lobster, you need the right equipment and ingredients.
For this particular lobster tail recipe, here's what you need:
great lobster tails
seasoned melted butter
a rimmed baking tray
How to Grill Lobster Tail on a Pellet Grill
Grilling lobster tails is so easy that even novice grillers can cook them with confidence.
Preheat Your Z Grills Pellet Smoker
When grilling baked lobster on your pellet grill, you want to use a high temperature. For this grilled lobster tail recipe, you need to pump the heat up to 500 °F.
Be sure to feed your pellet smoker oak pellets for this baked lobster tail recipe.
How to Prepare Lobster Tails
First, you need to prepare your lobster tails by cutting them down in the center. With sharp kitchen shears or a chef's knife, you'll butterfly the tails from the base to the tail, cutting through the hard shell. If you cut deep enough, you can open the shell and butterfly the lobster meat at the same time.
This process exposes the meat, but you'll want to go the extra step of pulling the lobster upwards to expose it even more. Loosening the meat allows it to cook evenly and absorb the smokey flavor you're looking for.
When you pull the meat away from the shell, be sure to leave it attached at the base of the tail.
If you didn't cut deep enough the first time, you might need to cut another slit in your lobster meat to butterfly it at this point.
Seasoning Lobster Tails With Melted Butter
For this lobster tail recipe, you'll taste the wonderful oaky flavors from your pellet smoker—but that's not all. A seasoned butter mixture with lemon juice, paprika, garlic salt, Old Bay, black pepper, and fresh parsley help make this lobster tail recipe truly the best.
This butter mixture also comes into play when you serve your lobster tails. It's the perfect dipping sauce!
What to Serve With Grilled Lobster Tails
These lobster tails taste great dipped in seasoned butter all by themselves. If you want to go the extra mile, consider making it a surf n' turf meal, complete with:
grilled steak
mashed potatoes
green beans, asparagus, or broccoli
How Long Does It Take to Grill Lobster Tails?
When grilling lobster tails on a pellet smoker, we recommend using a high temperature for a short time. 500°F for 25 minutes is perfect for butterflied lobster tails. You can check out our article on what temp are lobster tails done.
Grilled Lobster Tips and FAQS
If you're no expert at grilling lobster tails, don't worry. We've got the answers to the most commonly asked questions about grilling lobster tails.
1. Can Lobster Poison You?
Yes. Lobsters can cause food poisoning. As soon as shellfish die, harmful bacteria that are naturally present in their flesh begin to multiply. This is why buying and cooking live lobsters are recommended.
2. How Do You Know When Lobster Tails Are Done Cooking?
When lobster tails are done, they will appear white and opaque. The internal temperature of the lobster tail should be between 135 to 140 °F.
What are your favorite grilled lobster tips? Let us know in the comment section below!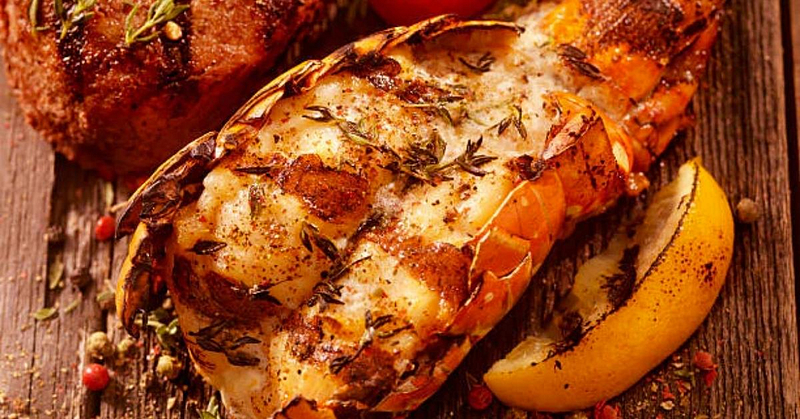 Grilled Lobster Tail Recipe
Get ready for the best grilled lobster tail recipe you'll ever come across.
Instructions
Preheat your Z Grills pellet smoker to 500°F using oak pellets.

Prepare the butter mixture. Melt the butter over medium heat in a saucepan. Then, add lemon juice, paprika, garlic salt, Old Bay, black pepper, and fresh parsley. Turn the heat off or to the lowest heat setting just enough to keep the seasoned butter warm.

Prepare your lobster tails. Using sharp kitchen shears, cut down the middle of each lobster tail through the hard shell.

Loosen the lobster meat by gently pulling it upwards, leaving it attached at the base of the tail. Rest the lobster meat on top of the shell.

If you didn't cut deep enough the first time, butterfly the lobster meat. You want it to appear open.

Place lobster tails on a rimmed baking sheet.

Pour 1 tablespoon of the butter mixture over each lobster tail. Keep the remaining butter mixture warm.

Place the buttered lobster tails directly on the grill grate.

Cook for 25-30 minutes until the lobster meat is white and opaque. The internal temperature of the lobster tail should be between 135 to 140 °F.

Transfer lobster tails to plates and serve immediately with the remaining butter mixture.
NutriChef Nonstick Cookie Sheet Baking Pan | 2pc Large and Medium Metal Oven Baking Tray – Professional Quality Kitchen Cooking Non-Stick Bake Trays w/Rimmed Borders, Guaranteed NOT to Wrap
NON-STICK COATED LAYER SURFACE: The bakeware's durable nonstick coating helps ensure quick, effortless food release—no need for excess butter, oil, or cooking spray. Delicious homemade baked goods slide out in one smooth slide
DESIGNED TO LAST: The commercial grade restaurant quality bakeware is made w/ engineered carbon steel metal alloy w/ attractive, goldish metallic coating. It is oven safe of up to 450°F(230°C) and prevents warping after repeated use to last a lifetime
RIMMED BORDER: These cookie sheets nonstick baking sheet set features fully rimmed border that prevents parchment paper from sliding out and juices/sauces from spilling while providing ample airflow and heat distribution for even baking/cooking
DISHWASHER SAFE: Use this stackable wide oven trays non stick pans for baking pastry dessert, food prep, serving w/out the hassle of cleaning. Just rinse under water or run through the dishwasher. Handwash recommended extending pan life
2 PIECE SET: The set includes 1 large baking sheet (LxWxH) 15.7" x 11.0" x 1.3" and 1 baking sheet medium size (LxWxH) 13.4" x 9.6" x 1.3" so you can make bulk batches of oven-baked cookies. Safe for kitchen ovens, convection ovens, toaster oven