When I left sunny Southern California for the rainy coastlines of Northern California—I took this recipe with me. This recipe reminds me of my father which is why we are bringing it to you for your Father's Day feast!
The first time I tried this marinade was at my college going away party. My father delighted the crowd with his grilled lamb. Our whole extended family spent the afternoon searing heaps of lamb lollipops and connecting one last time before all the kids finished growing and began to move away.
The chefs in my family can taste a dish one time and then go home to recreate the masterpiece based on the memory of the flavors. I learned to cook by watching my father. That is why I am cooking this bright and beautiful rack of lamb on our pellet grill for my husband and our boys this Father's Day.
This rack of lamb gets its sunny flavor from my rosemary, garlic, and Dijon marinade. When you make this recipe for the dads in your life, I recommend serving the lamb alongside fresh grilled vegetables and a bright green salad.   
Add a header to begin generating the table of contents
How to cut rack of lamb
For this recipe, we are going to slice the rack of lamb into lamb chops.
First, Place the rack of lamb down on a cutting board, then cut between the bones making a lamb chop for each rib bone.
Next, you are going to trim the fat down. This part is optional. Rack of lamb is super fatty and you definitely don't want to eat the whole strip of fat.  I leave a little bit of the fat on for the grilling process because the "right kind" of fat is what makes a meal mouth-watering.
I like to leave a little bit of fat because the grease causes a little flair up that gives the lamb a nice flame-grilled flavor. I cut the fat off after grilling before I serve it to my husband and children.
This part is optional! If I was serving the lamb at a party or as finger food (without a knife and plate) then I would recommend trimming the fat completely so your guests don't have to fuss with the fat after grilling.
How to marinade rack of lamb
2 keys to successful marinating are acid and time. You want an acidic marinade because the acids in your ingredients will tenderize your meats. Do you want your marinade to work? Marinate your meat for at least 6 hours so the acids and spicey in your marinade have time to work into the meat
If you have a large bowl with a tightly fitting lid I would recommend making the marinade and soaking your meat in the same vessel.
Start with 1/3 cup of stone ground Dijon mustard, add 1/3 cup of white wine, 1/3 cup of extra virgin olive oil, 6 cloves of garlic (chopped), and the sprigs from two large segments of rosemary, a heaping tablespoon of sea salt, and the juice from two fresh lemons. Mix the ingredients and soak the lamb for 6 to 36 hours.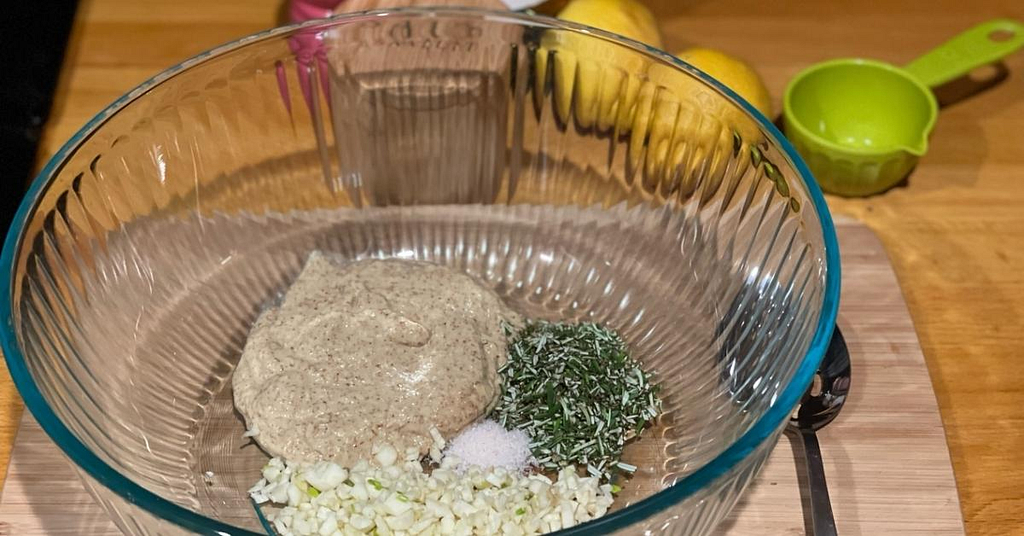 I marinated my lamb chops overnight. The results were perfect. The lamb was bright and tender—not gamy at all! I love this marinade! This recipe works well with chicken and beef, so it is definitely something you can use again and again in many different ways.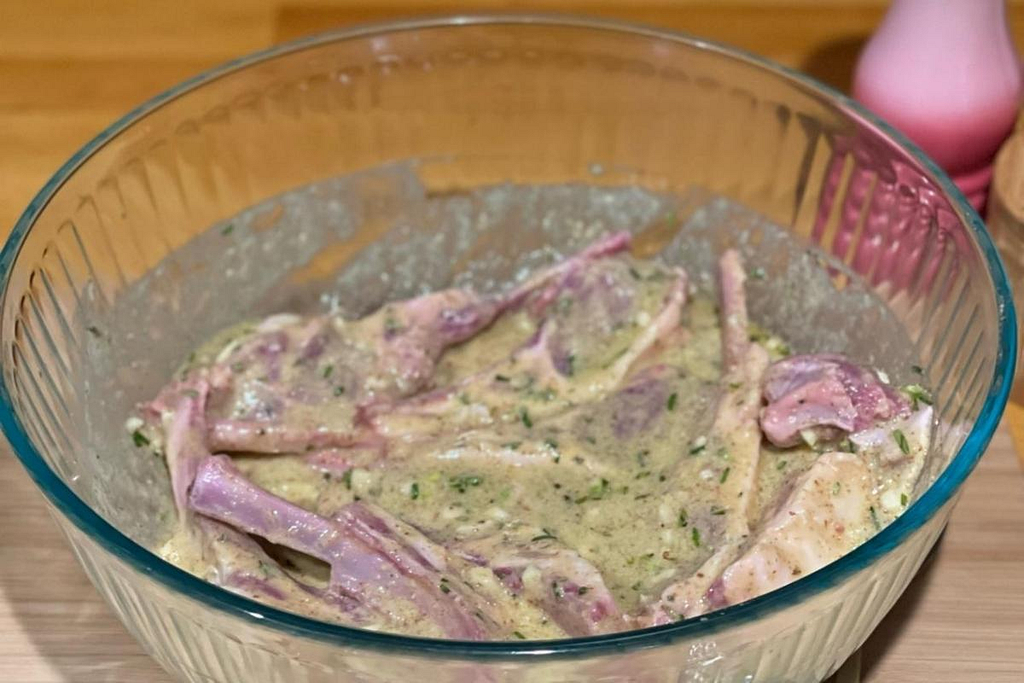 How to grill a rack of lamb on a pellet grill?
Set your Z Grills to 400 degrees. We are going to sear the lamb on both sides, so we want the pellet grill to be nice and hot.
Using a hot pellet grill to sear red meat is a great cooking strategy. Anytime you plan on using your pellet grill to cook red meat make the grill as hot as possible. Searing your red meat helps keep the juicy flavors sealed inside.
How long should you grill a rack of lamb?
For medium chops cook for approximately 10-12 minutes total. I cooked mine for six minutes on each side. After about three minutes you should rotate your chops 45 degrees to get a nice cross-hatch mark on your meat. Grill your rack of lamb chops until they are medium to medium-rare, depending on your preference.
Rack of lamb is rare at 120°F, medium rare at 125°F, medium at 130°F, and well done at 145°F and higher. Lamb can take on a gamey flavor when cooked beyond medium. Fortunately, the acids in the marinade will help break down the gaminess of the meat as well. 
Further reading: Smoking times and temperatures chart
What to serve with a grilled rack of lamb?
I love veggies and I am always looking for ways to boost the veggies in any meal. For this lamb dinner, I served a simple mixed green salad topped with olive oil, Meyers lemon, sea salt, and parmesan cheese.
Lamb holds up to any starch, but I personally recommend serving this lamb with wholewheat cuscus topped with cherry tomatoes and fresh pesto sauce. Rack of lamb chops with mixed green salad and cuscus is a hearty meal that doesn't feel heavy after eating. This is the perfect summer dinner.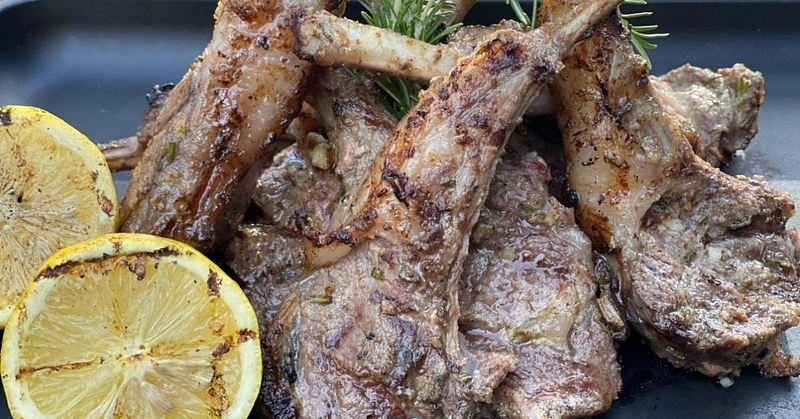 Rosemary Dijon Garlic Marinade Recipe
Ingredients
1/3

cup

of stone ground Dijon mustard

1/3

cup

of white wine

1/3

cup

of extra virgin olive oil

6

cloves

of garlic

2

lemons

the sprigs from two large segments of rosemary

1

tablespoon

of sea salt
Instructions
Combine all of the marinade ingredients in a bowl and mix your marinade.

Coat the chops in your marinade. Let the chops soak in your marinade in the refrigerator for 6-36 hours.

Preheat your Pellet grill to 400 degrees Fahrenheit.

Grill your lamb for 3-minutes then rotate the meat to create a crosshatch effect. Grill for a total of 6-minutes on each side.

Total cook time 12-minutes or until your chop has reached an internal temperature of 130 degrees for lamb cooked medium.

Rest for 3 minutes then enjoy!
Nutrition
Calories:
778
kcal
|
Carbohydrates:
34
g
|
Protein:
16
g
|
Fat:
69
g
|
Cholesterol:
25
mg