Lamb chops are a luxury meat option that most people only enjoy in restaurants, but you might be surprised to learn how easy they are to make at home. Using the Z Grills 11002B Wi-Fi pellet grill, you can smoke grilled lamb chops to perfection and create a luxurious meal option for your guests. Find out how to bring this meal to your table with this beginner-friendly recipe!
If you're looking for a new grill, Z Grills is the ideal choice for your first wood pellet grill. We're a grill manufacturer with over 30 years of experience within the industry. With over 650,000 pellet grills sold and 85 million cooks made.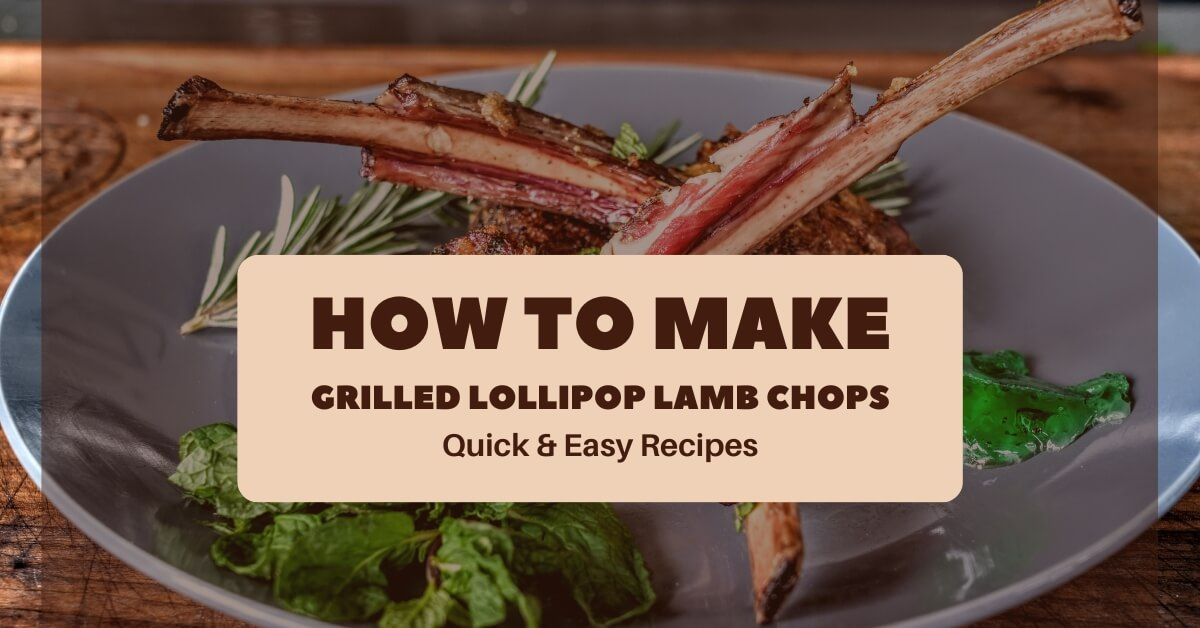 Add a header to begin generating the table of contents
Ingredients You Will Need
Create our delicious lamb chops with these ingredients:
Frenched rack of lamb
Dijon mustard
Panko bread crumbs
Fresh mint
Olive oil
Create SPG seasoning for your lamb chops by mixing these ingredients together in a bowl:
1 ¼ cups Kosher salt
2 cups coarse ground black pepper
1 ¼ cups granulated garlic
How to Make Grilled Lollipop Lamb Chops: Step-by-Step
With these simple steps, you can create juicy and delicious lamb chops with a medium-rare finish and a tasty brown exterior. Read on to learn how to achieve the perfect temperature and flavor.
Preheat the Z Grills Smoker on the Smoke Setting
There are many different ways to prepare lamb chops. However, for the best flavor and finish, we recommend setting your Z Grills smoker to the "smoke" setting with your favorite flavor of wood pellets. To enhance the flavor of your lamb chops, we recommend using the Z Grills Cherry Wood pellets. Be sure to open up the hood when it starts to create heavy smoke.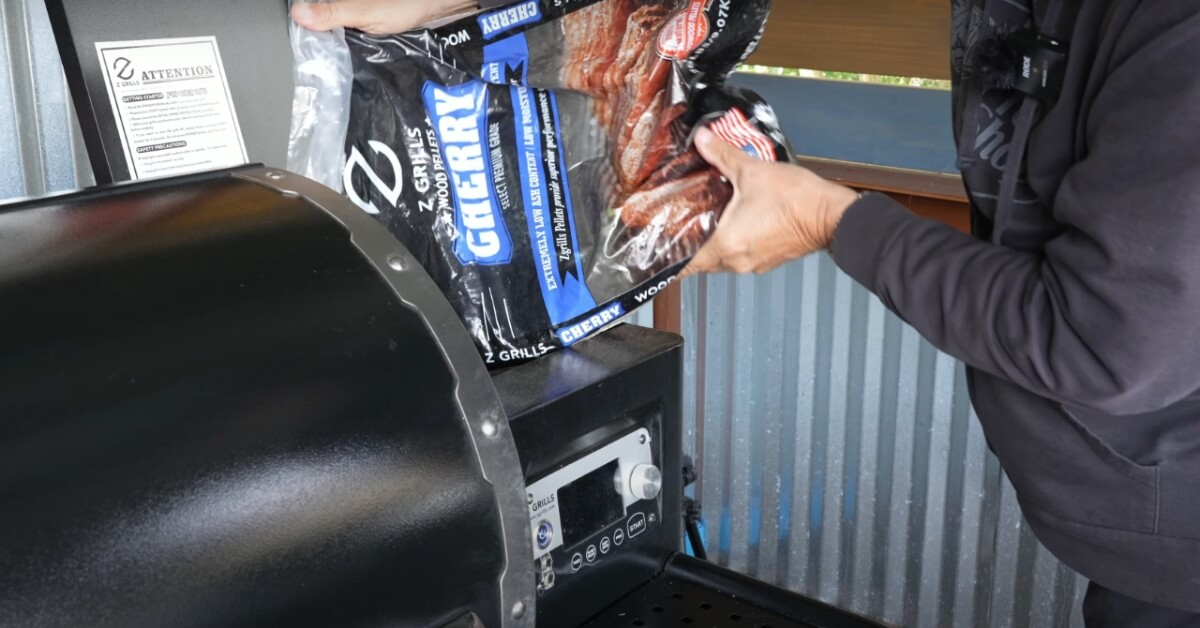 Make a Prettier Presentation
Though lamb is always full of flavor, there are steps that you can take to make it look much better when you serve them on a plate. To create the best appearance, you will need to use a boning knife to clean up the rack of lamb.
Begin by removing the thick fat cap (if there is one) from the top of the lamb rack. You can achieve this by making short and shallow strokes with the tip of the knife and pulling away the cap as you move along.
After the cap has been removed, trim up the lamb by removing any silver skin or hard fat. Move slowly and with purpose to avoid accidentally removing any of the delicious lamb meat.
Sprinkle All Sides with SPG Seasoning
With your combined bowl of SPG seasoning, it is time to start seasoning. We recommend putting the seasoning in a shaker to make it easy to distribute. Create a light coat across the lamb on all sides with the seasoning to spread the flavor. Don't go too heavy!
Place the Lamb Chops on the Grill
Now that your lamb chops are ready, it is time to start smoking them. You will place them in your Z Grills smoker until they reach an internal temperature of 110F at the thickest part. The standard cook time is roughly 1 hour to 1 hour and 20 minutes for a single rack.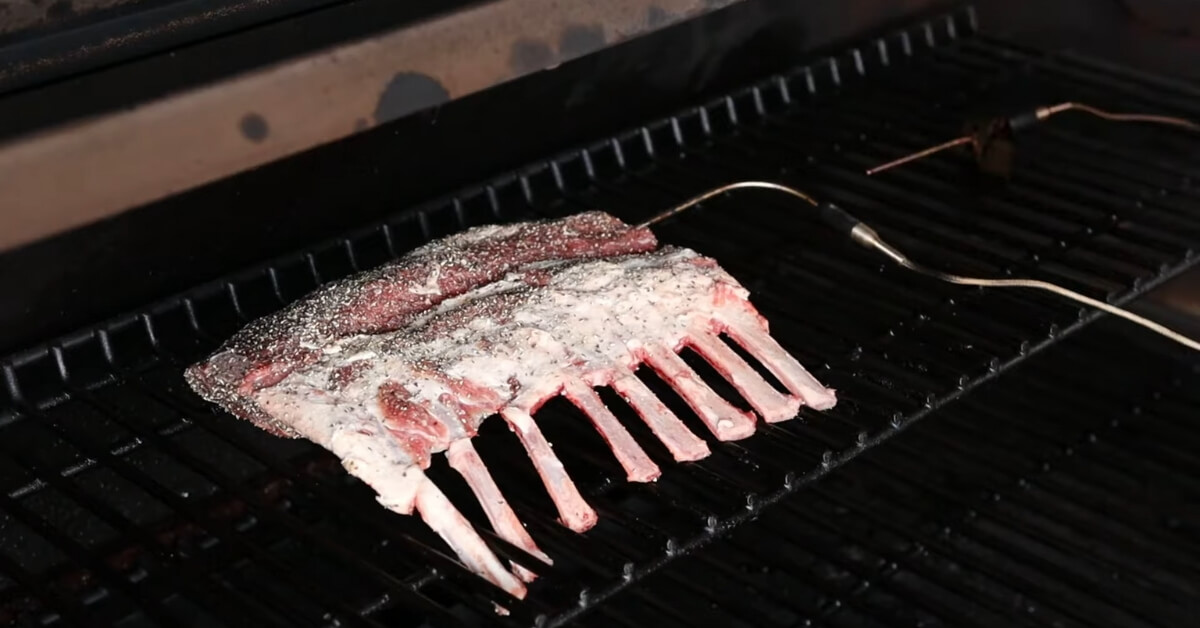 Rest and Slice
When the lamb chops reach the ideal temperature, remove them from your Z Grills model and allow them to rest for 10 to 15 minutes so the juices can settle. After they are done resting, you can slice them into lamb lollipops.
Season Your Lollipop Lamb Chops
Season up your panko breadcrumbs by adding freshly chopped mint (do a loose chop), as well as SPG seasoning. With the added flavor, it is now time to prepare the lambs for the breadcrumbs.
You can do this by brushing all sides of the lamb lollipops with mustard. After the lamb lollipops are coated, apply the breadcrumbs to all sides, repeating as needed until the lamb lollipops are all breaded.
Saute the Lamb Chops in a Skillet
Prepare your skillet by heating it between 400F and 425F. When it reaches the heat, take time to saute each lamb chop until it reaches a perfect brown on all sides—usually 2 to 3 minutes per side. Thicker chops may need to be left on longer. With the perfectly browned breadcrumbs, your lamb chops are done.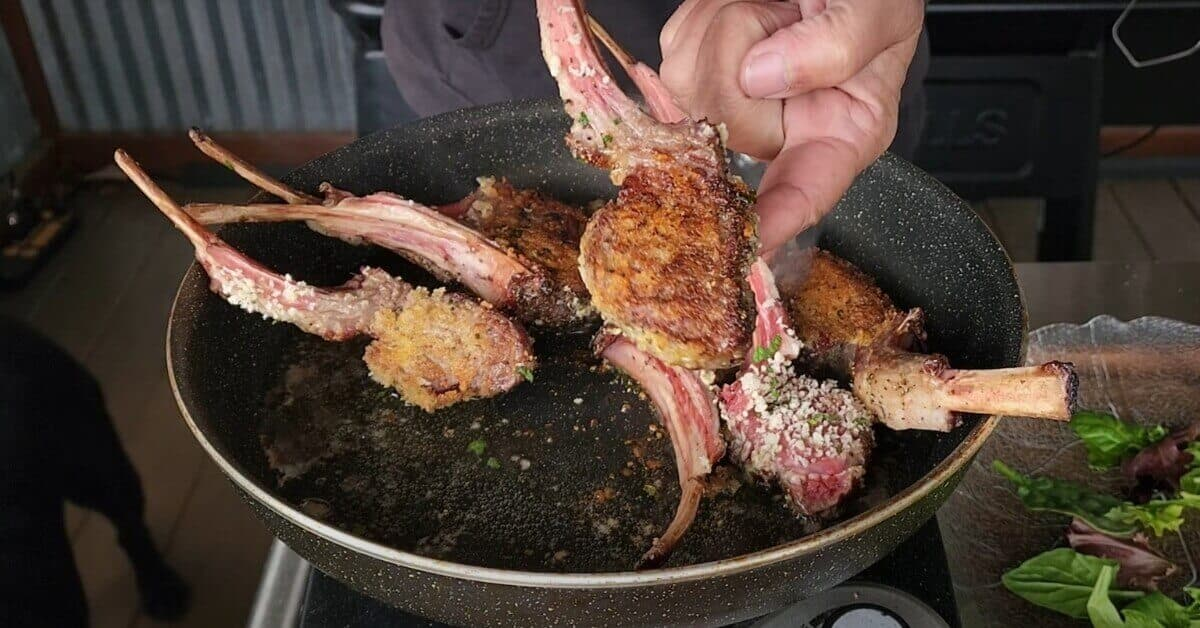 Decorate and Enjoy!
These lamb chops will be prepared at a medium-rare temperature to maintain their flavor and tender texture. Stack the chops against each other on a bed of greens, with mint and rosemary on the sides. It also pairs well with mint jelly. For best results, we recommend making these mouth-watering lamb chops using the Z Grills 11002B Wi-Fi pellet grill.
To learn more insider tips, watch the full video of this recipe by Chef Tommy from the popular YouTube channel The Gallery Backyard BBQ & Griddle!
Chef Tommy's Pro Tips for Grilled Lollipop Lamb Chops
Lamb chops are full of flavor when you prepare them correctly. Follow these top tips from Chef Tommy!
What Part of the Lamb is Lamb Lollipops?
"Lollipops" is a name that is sometimes given to lamb chops from racks of lamb. This is simply another way to refer to this part of the lamb.
How Long Should Lamb Chops Be Cooked on the Grill?
The amount of time it takes to cook your lamb chops will vary depending on the size of the lamb chops. Lamb chops that are small will cook fairly quickly, while thicker lamb chops will take more time to cook. We recommend going by the internal temperature, which should be 110F at the thickest part of the lamb chop.
What Temperature Should Lamb Chops Be?
Lamb chops are best when enjoyed at a perfect medium-rare temperature. To achieve this, you will need to cook the lamb chops until they reach 110F using a meat thermometer at the thickest part.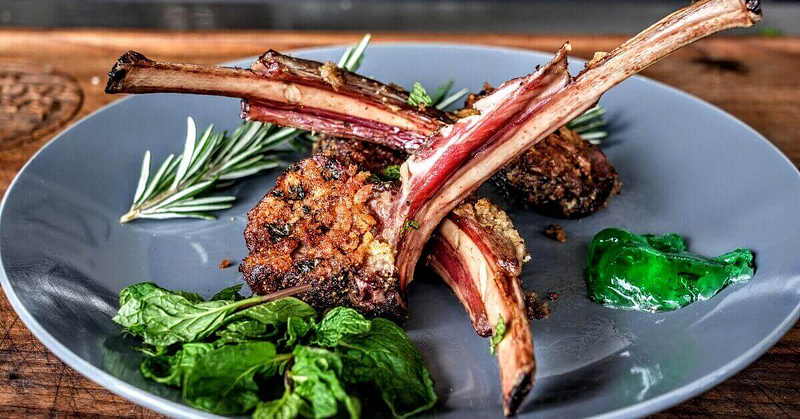 Grilled Lollipop Lamb Chops
Equipment
Z Grills 11002B Pellet Grill with Wi-Fi

Z Grills Cherry Wood Pellets
Ingredients
Frenched rack of lamb

Dijon mustard

Panko bread crumbs

Fresh mint

Olive oil
For seasoning
1 ¼

cups

Kosher salt

2

cups

coarse ground black pepper

1 ¼

cups

granulated garlic
Instructions
Remove the thick fat cap from the top of the lamb rack by making short and shallow strokes with the tip of a boning knife, pulling while you move along.

After the fat cap has been removed, trim any silver skin or hard fat, taking care to preserve all of the lamb meat.

Sprinkle all sides with SPG seasoning. The recipe can be found below.

Fire up your Z Grills on the "smoke" setting, then apply your favorite wood pellets. We recommend the Z Grill Cherry Wood pellets for the best lollipop lamb chops.

Smoke the lamb chops until the internal temperature reaches 110F.

Remove the lamb chops and allow them to rest for 10 to 15 minutes.

Once rested, slice the rack into the lamb lollipops.

Season your panko bread crumbs with freshly chopped mint and SPG seasoning.

Brush each lamb chop with the mustard, taking care to cover all sides, then coat the lamb chops in the breadcrumb mixture.

Heat your skillet to 400F to 425F and saute each lamb chop to a perfect brown.

Once the breadcrumbs are cooked, the lamb should be a juicy and delicious medium-rare inside.

Allow the lamb chops to sit for even more flavor, then serve them up!
Video